Stock Bubbles, Bond Busts Make Credit Suisse's Ambush List
By and
Brexit, oil-price crash and an EM surge came true last year

Analysts detail scenarios that are possible, if not probable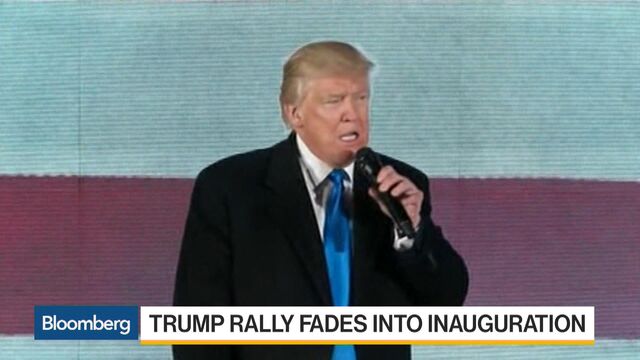 An equity bubble in Japan, Treasury yields at 4 percent and Marine Le Pen in the Elysee Palace all feature in Credit Suisse Group AG's annual roundup of shocks that could surprise markets in the year ahead.
Here are 10 scenarios, according to strategists at the Swiss bank led by Andrew Garthwaite, that could test equity investors' risk appetites in 2017.
1. Bubble then burst in the S&P 500
Credit Suisse suggests the first year of Donald Trump's presidency could prove to be one of extremes, with an equity bubble in the first-half and a selloff in the second. Elevated inflation expectations are just one factor that could catalyze a more significant bond-to-stocks switch.

2. A roller-coaster ride for the euro
A steeper-than-expected fall in the euro to $0.90 followed by a spring back to $1.20 would flout consensus, the strategists write. Yet political risk and U.S. protectionism could spark the fall, with the currency later rebounding on fundamentals and a euro-area current-account surplus.
3. China, the elephant in everybody's room
Global equity markets are vulnerable to the prospect of a disruptive decline in the yuan on continued capital outflows and U.S. political risk, Credit Suisse says. If the government's policy measures come unstuck, Chinese gross domestic product could slow to 5 percent and the yuan could fall to 8 against the dollar, the bank suggests.

4. President Le Pen
A win for the National Front candidate would trigger a sharp fall in global risk appetite and intensify fears about the creditworthiness of European sovereigns and banks, according to Credit Suisse. "Her victory would therefore represent a first for the euro area: a democratically elected government committed to exiting the single currency," it says.
5. Rearguard action by European defensives
Any disappointment in the economic expectations built up after President Trump's election could spark a bounce in European defensive shares, according to the strategists. These stocks, which comprise consumer, healthcare and utility companies, have relatively cheap valuations compare to more growth-sensitive industries, and positioning in them is "cautious," they say.

6. President Trump disappoints
The post-election surge in U.S. equities has been driven by firming growth and inflation projections, a boon for corporate earnings this year. A sharp reversal in market sentiment could occur if the administration's early efforts disappoint, the analysts conclude, with risks ranging from a legislative reality-check to trade protectionism.
7. Oil continues to rally
Brent crude could unexpectedly rally to $75 a barrel by the end of the year on cuts to production, stronger-than-expected growth in demand, and geopolitical disruption, Credit Suisse says. Oil companies might end up among the best stock-market performers.

8. Nikkei rises to 25-year high
Japanese companies' high fixed costs mean they have the biggest earnings leverage of any major region and would derive an outsized benefit from a pick-up in global growth. Further monetary stimulus, together with households and corporates returning to stock-market investments, are factors that have the potential to generate an equity bubble, according to Credit Suisse.

9. Another bad year for pharma
Pharmaceutical stocks were among the worst-performing sectors last year, and could continue to languish, the bank says, flouting their base case of outperformance. "Historically when the drug sector underperforms owing to political worries, it has tended to underperform by more for longer."

10. U.S. Treasuries yield 4 percent
An upward re-rating of equity valuations since the election underscores how the adjustment of growth expectations has outweighed the prospect of a higher discount rate. At some point elevated borrowing costs will hurt American businesses, write Garthwaite and team. The line in the sand to look out for? A 4 percent yield on 10-year U.S. Treasuries.
— With assistance by Cecile Gutscher
Before it's here, it's on the Bloomberg Terminal.
LEARN MORE