Sapin Predicts French Voters Will Keep Le Pen Out of Office
By , , and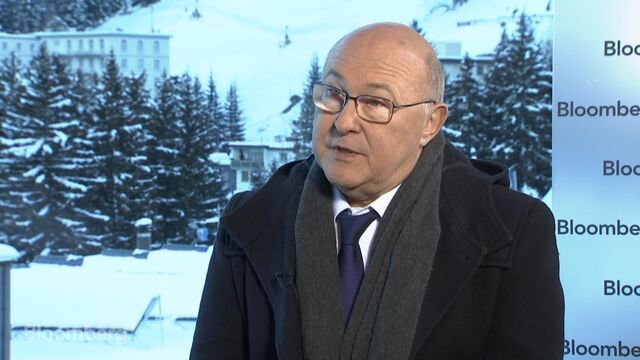 French Finance Minister Michel Sapin predicted that his country's voters are ready to pull together to prevent anti-euro, anti-immigration presidential candidate Marine Le Pen from winning power this year.
"The French will know how to unite, if necessary, to prevent her election," Sapin said in an interview with Bloomberg Television in Davos, Switzerland. The National Front candidate doesn't currently have the level of support that will allow her to win, he said.
While Le Pen is currently front-runner in a tight, three-way race in the presidential contest that culminates May 7, France's two-round voting system offers the electorate a chance to come together to block an extremist candidate. The only time a populist candidate has made it to the run-off stage was in 2002, when voters on both the left and right came together to give Jacques Chirac roughly 80 percent support against Jean-Marie Le Pen, Marine's father.
Sapin also brushed off suggestions that the U.K. could turn itself into a tax haven as it withdraws from the EU, saying such a policy would go against Britain's own interests.
"Tax dumping brings nobody anything," he said. "It doesn't help countries, especially big countries."
Before it's here, it's on the Bloomberg Terminal.
LEARN MORE