Peter Thiel's Mithril Capital Raises $850 Million VC Fund
By
Firm spreads fees over 12 years instead of the usual 10

'Hillbilly Elegy' author Vance says he's departing Mithril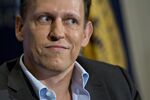 Mithril Capital Management LLC, a venture capital firm co-founded by Peter Thiel, said it raised about $850 million for its second fund.
Ajay Royan, managing general partner of Mithril Capital, said the firm takes a somewhat unusual approach of asking investors to pay management fees over 12 years, instead of 10 for the typical VC fund.
"We ask them to join us for a longer than average investment time horizon, don't charge excessive fees and have a very significant founders' commitment of capital," Royan wrote in an e-mail. "That's the happy trifecta of alignment."
Royan started Mithril Capital with Thiel in 2012, one of several investing shops associated with the billionaire. While raising the new Mithril II LP fund, Thiel's profile grew immensely. He supported Donald Trump during his presidential campaign and serves on the president-elect's transition team.
Royan said Thiel's political influence didn't impact the fundraising process, according to TechCrunch. The technology website reported the new fund earlier Thursday.
Another Mithril Capital partner rose to prominence last year. J.D. Vance, who joined the firm last April, penned the surprise bestseller "Hillbilly Elegy," which examines the plight of working-class Americans. Late last year, Vance said he would leave venture capital to return to his home state of Ohio and start a nonprofit to focus on economic mobility and other issues.
Royan said Mithril Capital tries to find technology companies that have built a product but haven't yet reached a large base of customers, an area where he said other VCs hesitate to deploy cash. Many U.S. firms have skewed their investing toward either very early or very mature startups, leaving less for those in the middle.
Mithril Capital makes investments over six years for each fund, compared with three to five years for many other funds. Royan said the longer time frame provides flexibility. "There's no pressure to move when you don't think there's something good to do," he said.
The firm's investments include Palantir Technologies Inc., the secretive data analytics company co-founded by Thiel, and C2FO, a finance business based in Kansas City, Missouri. After taking its cut, Mithril Capital will have $740 million to invest with the new fund, compared with $538 million with its first fund from 2013, Royan said.
Before it's here, it's on the Bloomberg Terminal.
LEARN MORE