markets
One of the Most Important Trump Trades Isn't Pausing At All
Trumpflation is still alive and well.
By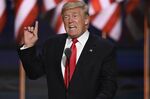 The yield curve is flattening. Year to date, the U.S. dollar index is in the red, and financial stocks are underperforming benchmark indexes.
Some widely hailed Trump trades, in other words, are taking a pause — but with one notable exception.
Over the past two sessions, breakeven inflation rates have hit their highest levels since the election at the two-year, five-year, and 10-year tenors.

That's the first time these measures — which are derived from the spread between nominal Treasury yields and the yields of Treasury inflation-protected securities — have exceeded 2 percentage points at all these maturities since 2014.
The rise in these market-based gauges of inflation expectations aren't wholly attributable to the promise of fiscal expansion under incoming President-elect Donald Trump; they also reflect fundamental developments in the economy.

December's non-farm payrolls report, for instance, showed average hourly earnings rising at their fastest pace of the cycle, pointing to broad price pressures in the pipeline.
In addition, firming inflation isn't solely a U.S. story.
Chinese factory prices are accelerating amid sturdier commodity prices, while the share of European companies reporting higher versus lower output prices has hit its highest level since 2011.
Before it's here, it's on the Bloomberg Terminal.
LEARN MORE