Nigel Farage, Who Helped Lead Brexit, to Be Fox News Contributor
By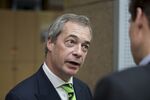 Nigel Farage, the former U.K. Independence Party leader who helped lead the successful Brexit campaign, will become a contributor on Fox News.
Farage, 52, the first foreign politician to meet with Donald J. Trump after his presidential victory in November, will provide prime-time and day-time political analysis on Fox News and Fox Business, according to a statement Friday from 21st Century Fox Inc.'s 24-hour news network.
Fox has one of the most loyal audiences in cable TV and has pummeled CNN and MSNBC in the ratings since the presidential election in November. That loyalty is facing a test now as the network shuffles its lineup after the departure of Megyn Kelly.
Farage was the leader of UKIP from 2006 to 2009 and from 2010 to 2016. After Trump won, he became the subject of a public lobbying campaign on Twitter to have him named British ambassador to the U.S.
"Many people would like to see @Nigel_Farage represent Great Britain as their Ambassador to the United States. He would do a great job!" Trump tweeted on Nov. 21. This forced a response from a British government spokesman, who said: "There is no vacancy. We already have an excellent ambassador to the U.S."
Before it's here, it's on the Bloomberg Terminal.
LEARN MORE