Morgan Stanley Lifts Gorman's 2016 Pay 7.1% to $22.5 Million
By and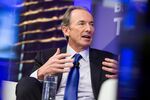 Morgan Stanley boosted Chief Executive Officer James Gorman's 2016 compensation 7.1 percent to $22.5 million after the firm made progress toward financial targets and its stock rose by a third.
Gorman, 58, received restricted stock valued at about $5 million based on Wednesday's closing price, according to a regulatory filing Friday. His $22.5 million package also included $1.5 million in salary, said Mark Lake, a company spokesman. The New York-based firm will report other components of Gorman's pay package in coming months.

Last year, Gorman moved the firm closer to financial targets by cutting expenses, improving bond-trading results and boosting companywide returns. Return on equity climbed to 8 percent, almost reaching the 9 percent to 11 percent goal for the end of this year. The stock posted its biggest annual gain since 2013, with much of it happening after Donald Trump's election as U.S. president spurred investor hopes for higher interest rates, lower taxes and lighter regulation.
Gorman's pay for 2015 was $21 million, down 6.7 percent from the prior year. He typically receives at least half of his compensation in the form of restricted shares. Some vest over time depending on the bank's return on equity and stock performance relative to the S&P Financials Index, while the remainder vests over three years regardless of financial results. Part of his cash payouts also have been deferred over three years.
Gorman on Thursday sold 284,827 shares worth about $12 million, according to the filing. In November, he sold shares and exercised stock options for a net gain of about $10 million, regulatory filings show, his first sale since joining the bank a decade earlier.
JPMorgan Chase & Co., the biggest U.S. bank, said Thursday that it increased CEO Jamie Dimon's pay for 2016 by 3.7 percent to $28 million. Goldman Sachs Group Inc. on Friday awarded restricted stock to some senior managers, but didn't disclose pay figures for CEO Lloyd Blankfein, Chief Financial Officer Harvey Schwartz and former President Gary Cohn.
Before it's here, it's on the Bloomberg Terminal.
LEARN MORE