Lloyd's of London Seeks Europe Base as May Backs Hard Brexit
by and
Expected single market exit prompts insurer to look abroad

CEO Inga Beale speaks about plans in Davos interview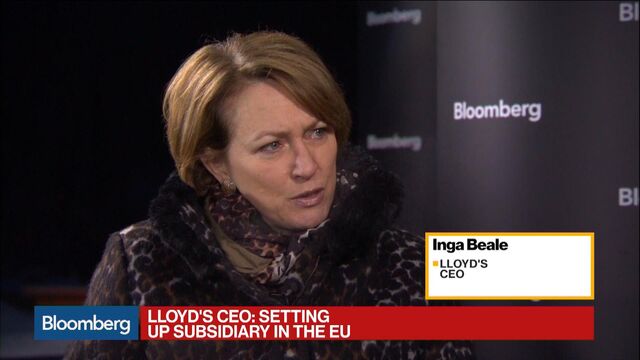 Lloyd's of London is pushing ahead with plans to open European headquarters outside of Britain after the U.K. prime minister indicated the country won't remain part of the EU's single market, according to Chief Executive Officer Inga Beale.
The company expects to decide on a location "likely to be somewhere on the continent" in the first quarter, Beale said in a Bloomberg TV interview at the World Economic Forum in Davos, Switzerland. Prime Minister Theresa May's speech this week "confirmed that to stay in the single market is not a priority and it's not going to happen and that means we have to go ahead with our contingency plans," she said.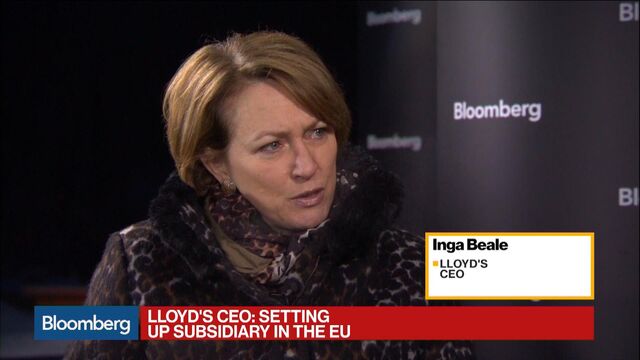 British companies are considering their options on how to keep clients in Europe after May stated the case for a so-called hard Brexit, with many making plans to move at least some operations to cities such as Paris, Dublin and Frankfurt. JPMorgan Chase & Co., HSBC Holdings Plc, Lloyds Banking Group Plc and UBS Group AG have said they'll relocate jobs from London.
Beale said she expects to lose passporting rights and licensing that allows Lloyd's of London to do business with European companies. Lloyd's, founded in a London coffee house more than 300 years ago, expects to choose a city for the new headquarters in the first quarter and approvals could take 12 to 18 months, she estimated. Malta was considered and ruled out because it wouldn't be able to handle the company's global business, she said.
The insurance market is suffering from slim margins that could be alleviated as investors move from low bond yields to betting on insurance this year, she said. The U.S. presidency of Donald Trump is unlikely to have a large impact on the industry, though economic growth could boost sales, she said.
Before it's here, it's on the Bloomberg Terminal.
LEARN MORE