Hammond Suggests U.K. Safety Net If Brexit Talks Overshoot
By
Says positive negotiations could allow extension period

Still confident agreement can be reached within two years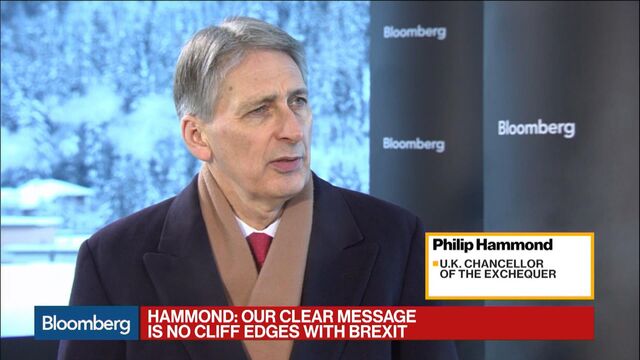 Chancellor of the Exchequer Philip Hammond raised the prospect of a safety net for Britain in the form of an interim arrangement with the European Union if Brexit negotiations cannot be concluded in 2019.
While Hammond said he is confident a deal setting out the terms of Britain's exit can be reached in two years if talks are positive and constructive, he told a panel at the World Economic Forum in Davos, Switzerland, that extra time to conclude an agreement could also be agreed on.

"If we are making good progress but haven't quite got there, we'll simply agree that we'll leave the EU and we will agree some interim arrangements while we complete the discussion," he said. "We think it can be done in two years."
Hammond offered a more measured tone than Prime Minister Theresa May, who said on Tuesday that she would favor "no deal" at all over failing to get what she wants. The chancellor first proposed the U.K. being given more time for negotiations than allowed under EU rules when he detailed his ideas about a transition period to lawmakers in December.
"The treaties are clear -- we will leave the EU two years after we serve the notice," Hammond said. "If the negotiations are positive, constructive, we're working together, I don't think that needs to be an insuperable problem."
The feasibility of achieving May's goal -- tariff-free trade with the EU while leaving the U.K. at liberty to strike deals with other countries -- within the two-year limit has provoked skepticism, given that any pact would need the sign-off of all 27 remaining EU members.
The shape of the final agreement will also not, ultimately, be up to the U.K. It will be the views of the other EU member states, molded by EU chief negotiator Michel Barnier, which will be decisive.
Before it's here, it's on the Bloomberg Terminal.
LEARN MORE