Gambian Army Says Country Is 'Safe' as Jammeh's Future Unclear
By , , and
Contested election to be solved by political means, forces say

West African military forces were poised to oust Jammeh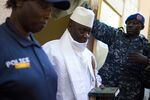 Gambia's security forces said the country was safe and would see no fighting even after an announcement that former President Yahya Jammeh agreed to diffuse a crisis by stepping down was thrown into doubt.
"This is a political problem and it will be solved by political means," Gambia's army chief Ousman Badjie told reporters as he read a statement issued jointly by the military, police and other security forces. "There will be no fighting in this country."
Badjie was speaking after West African leaders tried to persuade Jammeh on Friday to vacate his office before regional troops resume their offensive to install the elected president, Adama Barrow. While there was no official announcement, Barrow said on his Twitter account that Jammeh had agreed to step down. The tweet was later deleted.
Pressure intensified on Jammeh after Barrow took his oath of office in neighboring Senegal on Thursday and the United Nations Security Council adopted a resolution giving "full support" to Ecowas to enforce the outcome of last month's elections, when Barrow's victory ended Jammeh's two-decade rule. Jammeh, who once vowed to lead Gambia for a billion years, surprised the nation of fewer than 2 million people by acknowledging he lost the vote before changing his mind and casting doubt over the results.
Barrow, 51, described his inauguration Thursday as "a victory of the Gambian nation" and urged the country's armed forces to "demonstrate their loyalty to me as their commander-in-chief."
Public Celebrations
News of Barrow's swearing-in prompted crowds in Banjul and its outskirts to pour into the streets to celebrate with chants of "Gambia has decided."
Following the ouster of Burkina Faso's president, Blaise Compoare, in 2014 and successful democratic transfers of power in countries including Nigeria and Ghana, West Africa is "trending away from entrenched, long-standing rulers," Adeline Van Houtte, Africa analyst for the Economist Intelligence Unit, said by e-mail from London.
The crisis prompted thousands of Gambians to flee, piling mattresses, chairs and other household goods on taxis crossing the border, with the UN High Commissioner for Refugees saying that Senegalese authorities estimate that about 45,000 people have arrived. Travel company Thomas Cook Group said it was flying back about 1,000 U.K. customers. Gambia depends on tourists from the U.K., Germany and the Netherlands for the bulk of its revenue.

— With assistance by Yinka Ibukun, Kambiz Foroohar, Olivier Monnier, Oudaa Marouf, and Ekow Dontoh
Before it's here, it's on the Bloomberg Terminal.
LEARN MORE