French-German Tank Maker Eyes Volvo Unit to Secure Scorpion
By
Volvo defense assets for sale may be worth about $533 million

Buying Boxer would bring military technology back to Britain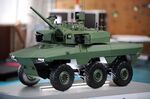 French-German tank maker KNDS plans to bid for Volvo AB's defense unit in a transaction that may value the manufacturer of military vehicles at about 500 million euros ($533 million).
KNDS, created from the merger of France's Nexter Systems and Krauss-Maffei Wegmann of Germany, is keen on acquiring Volvo Governmental Sales because it works with the unit on the 6 billion-euro Scorpion armored-vehicle program for France, said Frank Haun, who heads the German manufacturer and is also co-CEO of KNDS. That makes an acquisition strategically important, he said.
"We would highly appreciate if this business would end up in our hands," Haun said in an interview in Munich. "It will round off our portfolio in that particular market segment."
Volvo on Nov. 4 said it wants to divest the division, which has about 1,300 employees and just under 500 million euros in revenue. The unit sells defense, security and emergency-service vehicles under the Volvo, Renault and Mack brands as well as the Panhard and ACMAT businesses. Nexter and Renault Trucks' defense unit already work together on combat vehicles for the French army.
Seeking Acquisitions
Nexter and KMW concluded their merger in 2015, and said the joint company will serve as platform to integrate other manufacturers. Norway's Kongsberg Defence & Aerospace AS last year bought half of Finnish tank maker Patria Oyj, removing a potential asset from the market, and Italy's Leonardo SpA may be seeking acquisitions itself. With the U.K. busy determining its exit from the European Union before deciding on the future of defense assets, Volvo may be Haun's best bet for acquisitions for the time being.
Defense assets have sold for a median 1.14 times annual revenue in the past 10 years, data collected by Bloomberg show, meaning Volvo's business could be worth about 500 million euros. No formal talks have taken place between the parties, and Haun said he hasn't seen Volvo's financials in detail.
Haun said he expects Volvo to stage a "very clean, very adequate" competition for the asset, which could start in the first quarter, with the process narrowed down to a handful of bidders by summer and a winner announced by the third or fourth quarter.
The sale process continues, and "will take the time it takes," said Joakim Kenndal, a Volvo spokesman, without providing details.
Haun is also pitching KMW's eight-wheeled Boxer vehicle to the U.K. after the British Army started its fourth attempt to buy a new infantry vehicle, and said his solution offers proven off-the-shelf technology. Lithuania last year ordered Boxers for an average 4.4 million euros apiece. As those vehicles included turrets, which the U.K. isn't shopping for, the price would be considerably lower in a sale to Britain, Haun said.
General Dynamics Corp. may have the best chances of winning if a formal competition is held, because the U.S. company manufactures larger quantities, allowing for lower per-unit costs, highlighting the need for consolidation in Europe. The region had 17 active production lines for tanks, infantry fighting vehicles, personnel carriers and self-propelled howitzers, according to a 2013 report by the Centre for European Policy Studies, compared with just two in the U.S. The U.K. exited the Boxer project in 2004 after partially funding the vehicle, which KMW makes with Rheinmetall AG.
"The British have already paid for the development of the Boxer, so it would make a lot of sense for them to buy the vehicle which is qualified against all their requirements," Haun said. "They'd get technology back to Britain. If, however, they want a full-blown competitive evaluation, we would be ready to compete."
Before it's here, it's on the Bloomberg Terminal.
LEARN MORE