Ex-U.K. Chancellor Osborne Appointed Adviser to BlackRock
by
BlackRock says Osborne will not lobby government departments

Osborne to advise think tank led by Vice Chairman Hildebrand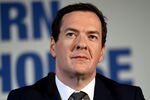 BlackRock Inc. appointed former U.K. Chancellor of the Exchequer George Osborne as a senior adviser to its investment institute, the world's largest money manager said.
Osborne, who is due to take up the position Feb. 1, has "a unique and invaluable perspective on the issues that are shaping our world today," Larry Fink, BlackRock's chairman and chief executive officer, said in an e-mailed statement Friday.
The former chancellor will provide the think tank, led by Vice Chairman Philipp Hildebrand, with perspectives on European politics and policy, Chinese economic reform and the impact of low yields and longer life expectancy on retirement planning, BlackRock said in the statement. Osborne won't be involved in any lobbying of the U.K. government, the firm said. He will keep his seat as a member of the British parliament, a BlackRock spokeswoman said.
Osborne ran the U.K. Treasury from 2010 until July 2016 and wasn't reappointed to the position after Theresa May became prime minister following the resignation of David Cameron after the Brexit vote. BlackRock hired Osborne's former aide Rupert Harrison as chief macro strategist in 2015.
While in office, Osborne made changes to state pensions. This included moving to a flat-rate pension from the previous two-tier model. He also introduced legislation to enable savers to withdraw money from retirement pots early.
Before it's here, it's on the Bloomberg Terminal.
LEARN MORE