Five Charts Show Lurking Risks in China's Economic Stabilization
Bloomberg News
Overall debt level rose as households took on more mortgages

Nation is more dependent on state-owned companies to invest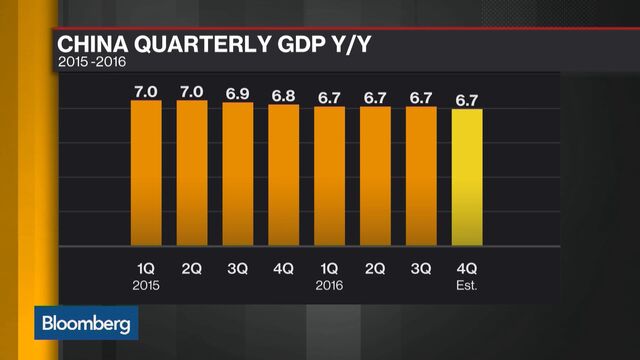 China's economic stabilization has come at a cost.
While gross domestic product growth last year was smack in the middle of the government's target, debt levels rose to even more stratospheric levels as households took on more mortgages to fuel a property boom. And the nation became more dependent on the cumbersome, inefficient state sector for investment as private companies eschewed spending.
"The good news is that Chinese growth has stabilized and I expect this to continue for 2017," said Tao Dong, senior advisor of private banking for Asia at Credit Suisse AG in Hong Kong "The bad news is that this is not organic growth. China needs to re-engage the investment interest from the private sector instead of relying on stimulus."
Here are five charts that show the risks lurking in Friday's gross domestic product release:

The efficiency of credit has declined as each dollar of lending generated only about 30 cents of economic output for the past three years, highlighting concerns of stagnation as the burden of past borrowing piles up on businesses. Overall debt risks surged, according to a Bloomberg Intelligence gauge comparing outstanding aggregate financing and GDP.
"Stimulus worked and China hit its growth target for another year," Bloomberg Intelligence chief Asia economist Tom Orlik wrote in a note. "The greater focus for the markets though, is the price that was paid in unsustainable credit creation." Orlik estimates outstanding credit rose to about 264 percent of GDP last year.

The nation's residents -- famous for working diligently and saving judiciously -- are learning to embrace credit. The ratio of domestic loans to households relative to GDP surged to 44.8 percent, almost double the 2009 level.
While that level pales in comparison with many developed nations, the speed of the increase is ringing alarm bells. Long-term new loans issued to households -- mostly mortgages -- almost doubled last year, spurring a housing boom that saw prices surge in major cities.
And while people seem to be swiping their credit cards less -- new short-term loans to households declined for a third year -- Online peer-to-peer platforms have provided new ways to rack up debt, so it's hard to get a clear picture of consumer credit.

Despite the housing market boom, the world's second-largest economy actually became less dependent on real estate moguls. Fixed-asset investment in property development relative to GDP edged down for a second year after a 2014 peak. That doesn't include the sector's other contributions to the economy -- puffing up the paychecks of real estate brokers and fueling consumption in household items.
That lower reliance on development is a forward step in the nation's rebalancing to more sustainable growth drivers. But in a step back, the state-owned sector expanded its role again as the government tried to pick up the slack from penny-pinching private companies.

Fixed-asset investment by state-owned companies increased to 28.6 percent of GDP last year, the highest since at least 2003. That spending rose 18.7 percent in 2016 from a year earlier, the fastest pace since 2009, when the nation rolled out a massive stimulus package in the wake of the global financial crisis.

China's Gini coefficient, an internationally-recognized gauge of wealth disparity, edged up in 2016, snapping declines since 2008. 
That's due to slower pension increases of low-income residents and declining receipts of rural residents who rely solely on farming, according to the head of the statistics bureau. Migrant workers from rural areas, usually at the bottom of the wage ladder, saw their income gains slow to 6.6 percent in 2016, from 7.2 percent in 2015.
With so many clouds circulating -- albeit with the silver lining of consumption-fueled stability for now -- China bears haven't been dissuaded by its 6.7 percent full-year growth.
"What drove it is what has been driving everything of late: more borrowing and more 'build it and don't worry if they will ever come or not' state investment," said Michael Every, head of financial markets research at Rabobank Group in Hong Kong. "The bill for that will fall due in time, and what GDP giveth, GDP will taketh away."
— With assistance by Xiaoqing Pi
Before it's here, it's on the Bloomberg Terminal.
LEARN MORE