India Just Got a New Billionaire Thanks to Soaring Bank Shares
By
Lender's shares have outperformed the rest of India's banks

Kapoor joins Uday Kotak as the industry's second billionaire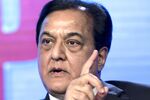 Rana Kapoor, the co-founder and chief executive officer of Yes Bank Ltd., has become a billionaire as shares in the lender jumped 16.4 percent this month, making it the best-performing stock among India's banks.
The Mumbai-based lender is benefiting from its low bad-loan ratio and robust return on equity, according to Alpesh Mehta, Mumbai-based analyst at Motilal Oswal Securities Ltd. 
India's banks have seen their profits squeezed recently by a surge in bad loans. The industry's gross bad-loan ratio jumped to a 14-year high of 9.1 percent in September, according to the Reserve Bank of India's Financial Stability Report released in December.
"Whatever metric that you see when you look at banking stocks, whether you focus on margins, fees, operating efficiency, credit costs, any of these parameters, they have been doing a fantastic job," said Mehta, who has a "buy" recommendation on Yes Bank.
The lender's shares added another 1.7 percent to reach 1,345.95 rupees on Wednesday, the day before Yes Bank reports its third-quarter earnings. The stock has jumped 16.4 percent in January, compared with a 5.9 percent gain in the S&P BSE Bankex Index, which tracks 10 banks.
Yes Bank's stock recently resumed its climb after plunging 18.8 percent over a ten-day period in early September, when it abandoned plans to raise $1 billion through a share sale. The lender cited "misinterpretation" of new rules for the so-called qualified institutional placement as the reason for the delay. It marked the first time an Indian lender had pulled a share sale since at least 2011, according to data compiled by Bloomberg.
Yes Bank's gain this month has lifted Kapoor's net worth to $1 billion, according to the Bloomberg Billionaires Index. The majority of his fortune is derived from his 11.6 percent stake in the lender. 
He's only the second billionaire to emerge from India's banking industry, after Kotak Mahindra Bank Ltd.'s Uday Kotak, who has a $7.2 billion net worth. The billionaire Hinduja brothers are the largest shareholders of IndusInd Bank Ltd., but their wealth was originally derived from other sources.
Jitesh Patel, a spokesman for Yes Bank, confirmed Kapoor's stake in an e-mail and declined to comment on his net worth.
Yes Bank was established in 2004, when it became the first new lender to open in India since a raft of private banks were licensed by the central bank a decade earlier. Kapoor, 59, and his brother-in-law, Ashok Kapur, were its co-founders. A third partner in the business, Harkirat Singh, had left before the company was founded.
The partners had acquired their seed capital of $10 million each a year earlier, when they sold their stakes in Rabo India Finance, a joint venture they had formed with Rabobank Groep of the Netherlands. Previously, Kapoor had spent two years working for ANZ Grindlays and another 15 at Bank of America.
He's been the "driving force behind the success of the bank," said Ravikant Bhat, a Mumbai-based analyst at IDBI Capital Market Services Ltd., who has a "hold" rating on Yes Bank. "Given that Yes is a new generation bank, what he has achieved in the last twelve years is quite remarkable."
Kapur's tenure at the helm of Yes Bank was cut short when he was killed during the Mumbai terror attack in 2008. Madhu Kapur, the co-founder's widow and sister of Kapoor's wife, continues to have a 9.4 percent stake in the lender. Her net worth is valued at $800 million.
The Bombay High Court ruled in 2015 that she had inherited the right to jointly nominate directors to Yes Bank's board. The lender contends that a co-founder's rights can't be transferred to family members. Both parties have filed separate appeals.