U.S. Banks' Trading Dominance Widens as European Rivals Retreat
By
JPMorgan gained the most since 2010 in fixed-income trading

Biggest U.S. firms now control 57 percent of global market
Wall Street's biggest banks widened their lead over European rivals in securities trading and now control almost 60 percent of the global market -- and that's even before they reported big gains in the fourth quarter.
U.S. firms, led by JPMorgan Chase & Co., have increased their share in fixed-income trading over the past six years by 10 percentage points to 57 percent, according to data compiled by Bloomberg. In equities, the figure jumped by 12 percentage points to 56 percent. The market shares are based on trading revenue reported by the 15 largest broker-dealer banks worldwide and include only the first nine months of 2016.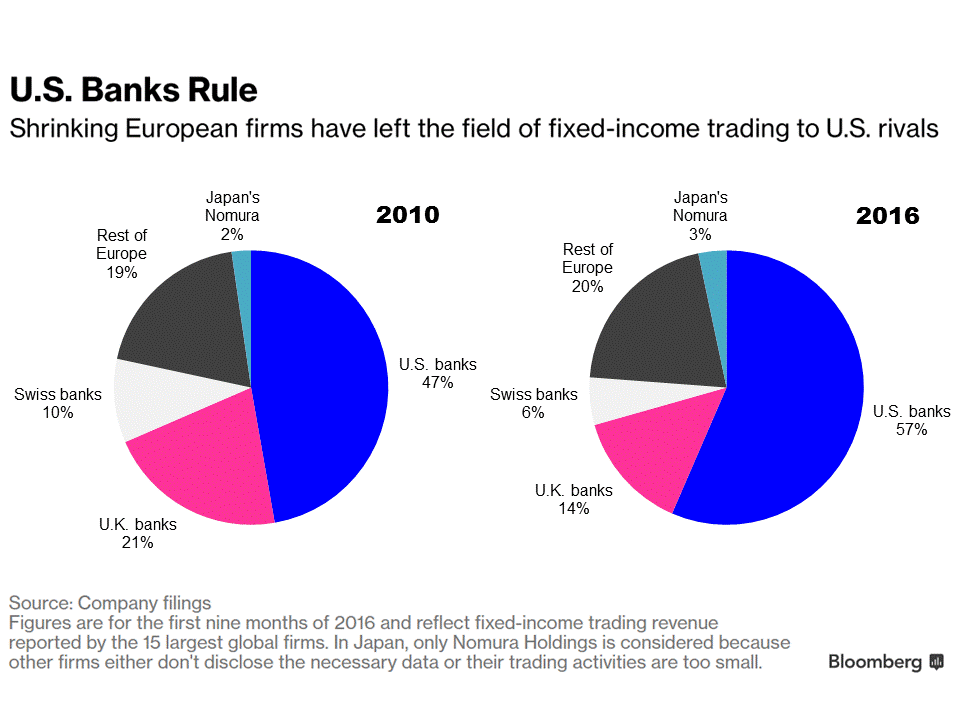 The widening lead by U.S. banks, nine years after they almost blew up the global financial system, comes as many European rivals are retreating from trading. Stung by the U.S. mortgage-market meltdown and rocked by a sovereign-debt crisis on their own turf, European lenders were slower to recognize losses, replenish capital and trim unprofitable businesses.
"Until 2010, there was complete denial in Europe about the crisis in banking," said Amrit Shahani, a research director at Coalition, a London-based advisory firm. "American banks did their restructuring and recapitalization early on. European firms have been facing the pressure to do the same more recently, so they're behind in their makeovers."
U.S. banks reported fourth-quarter earnings over the past week, continuing to show rising trading revenue. European and Asian banks haven't yet provided year-end results.
The biggest loser in fixed-income trading over the six-year period has been Barclays Plc, the U.K.'s second-largest lender, which lost five percentage points of market share after restructuring its investment-banking business. Barclays has said it's aiming to focus on profitability rather than revenue.
UBS Group AG and Credit Suisse Group AG, the top two Swiss banks, also saw their market shares drop as they shifted their focus to wealth management.

JPMorgan, the biggest U.S. bank, increased its share of fixed-income trading by six percentage points, followed by Citigroup Inc., which added about four percentage points. Citigroup, which was bailed out by the U.S. government in the 2008 crisis, has been shrinking its global retail-banking footprint while expanding its capital markets business. It has doubled the size of its derivatives book in 10 years. HSBC Holdings Plc, the No. 1 U.K. bank, has been doing the same and pushed ahead of rival Barclays in fixed income.
Morgan Stanley passed Goldman Sachs Group Inc. to become the market leader in stock trading, which includes equity derivatives. JPMorgan had the third-biggest share, followed by Deutsche Bank AG. That bank, Germany's biggest, gained market share in equities and maintained its share in fixed income despite concerns about its profitability, capital levels and reports of customers fleeing.

Credit Suisse had the biggest drop in equities trading since 2010, data compiled by Bloomberg show. While the Zurich-based firm has made no secret of its shrinking ambitions in fixed income, it has been pushing to improve its equities business. The bank, which remains one of the largest global players, has attributed some of the decline to the shrinking European market.

The two other biggest losers of market share in equities, Credit Agricole SA and Royal Bank of Scotland Group Plc, have abandoned the business as part of restructuring efforts. RBS, bailed out in 2008 by the U.K. government, which still owns a majority stake, has been shrinking its investment bank, focusing on retail banking in its home market.
Spokesmen for Barclays, Credit Agricole, Credit Suisse, RBS and UBS declined to comment.
Coalition's Shahani said he expects European banks will push hard to reclaim lost market share as they concentrate on specific parts of the trading business.
"We could see some reversal in the biggest guys gaining more market share," he said.
Before it's here, it's on the Bloomberg Terminal.
LEARN MORE