Trump Presidency Should Boost U.S. Economy, BMO's Downe Says
By and
Expanding U.S. economy would benefit bank, customers, CEO says

Dodd-Frank can be fixed; Brexit won't wreck U.K., Downe says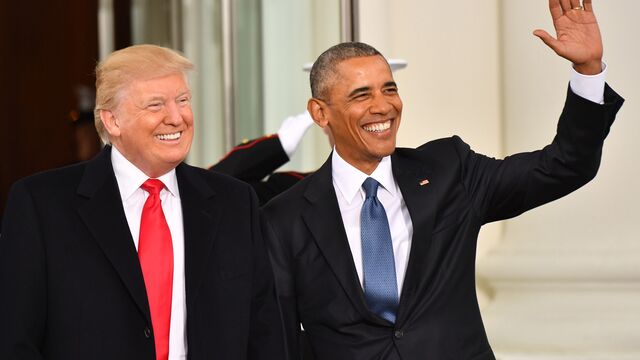 The U.S. economy under President-elect Donald Trump should expand at a faster pace, helping Bank of Montreal and the midsized companies it counts as customers, Chief Executive Officer Bill Downe said.
"The benefit to us is the economy is going to expand, I believe, faster than it otherwise would have," Downe said Thursday in an interview at the World Economic Forum in Davos, Switzerland. Downe said he's "in the constructive camp" and anticipates U.S. annual economic growth will accelerate to 2.5 percent this year, outpacing Canada's 2 percent gain.
"A half-point faster GDP growth, the businesses which we think are doing very well will do that much better," Downe, 64, said.
Bank of Montreal has about $75 billion in deposits in the U.S., 3 million clients and a growing commercial banking business that targets midsized companies, Downe said. Any growth in the U.S. economy and markets will be "very positive" for Canada's fourth-largest lender and its corporate customers, he said.
"It's not like pulling a winning lottery ticket," Downe said. "It's that the headwinds of seven or eight years have become neutral and now for the first time in a decade there should be tailwinds, which just means it'll be easier to navigate."
To see what other banks in Davos are saying about Trump, click here
Separately, Downe said the U.K. vote to exit the European Union last year will cause some economic dislocation, but that countries and companies will adjust.
"Capital seeks an efficient place and I don't think it's going to wreck the British economy," Downe said. "It's going to be different."
Brexit, Trump's election and other geopolitical trends tied to increasing global populism were a common theme at Davos this week. JPMorgan Chase & Co. CEO Jamie Dimon said Wednesday that the euro region could break up if political leaders don't come to grips with the discontent that's spurring support for populist leaders across the continent. Such developments were more than a "flash in the pan," and represented a fundamental political shift, Morgan Stanley CEO James Gorman said Thursday.
The administration of President Barack Obama "accomplished more than they're getting credit for," Downe said in the interview, though the "public sector's engagement with the private sector has plateaued, and now we can go back and fix some of the things that aren't working well."
U.S. banking regulations that emerged from the financial crisis are an example, he said.
"Dodd-Frank has some issues that can be fixed," Downe said, referring to the 2010 bill that expanded government oversight of banks. "It was always argued that you don't need to change Dodd-Frank, all you have to do is change how many parts of it are being interpreted. That may be all you have to do."
Before it's here, it's on the Bloomberg Terminal.
LEARN MORE