Times Have Changed Since U.S. Last Named China a Currency Manipulator
By and
Clinton Treasury tied FX to China hopes of joining trade pact

China's economy has diversified, leaving it less vulnerable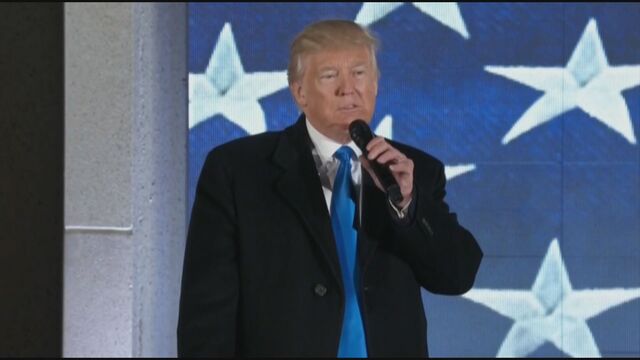 As President-elect Donald Trump considers his options to take on China over trade, he can't dangle the same carrot a predecessor had more than two decades ago, when the U.S. last officially dubbed China a currency manipulator.
President Bill Clinton's administration in 1994 tied Chinese cooperation on exchange-rate policy to negotiations for World Trade Organization entry. In fact, it wasn't even called the WTO yet, but the General Agreement on Tariffs and Trade. China took measures that eased U.S. concerns, shaking the manipulator tag, even though it took years to enter the world's main trade body, which happened in 2001.
Today, it's a very different story. America no longer holds such keys, and it's Chinese President Xi Jinping who's advocating for free trade and globalization in contrast to Trump's protectionism. As for the stick, Trump may have less up his sleeve than Clinton did, as China's rapid development and diversification of its economy since then have reduced the relative importance of its bilateral trade ties with the U.S.
"Trump has far less leverage," said Xia Le, a Hong Kong-based economist at Banco Bilbao Vizcaya Argentaria SA. Among the difficulties: the U.S. is unlikely to find support from its regional allies on unilateral protectionism, and the interests of some American companies themselves would be in conflict with such an aggressively anti-China approach, Xia said.
Treasury Secretary nominee Steven Mnuchin said during his Senate confirmation hearing Thursday that he was willing to label China as a currency manipulator, if warranted.
Read the full story on Mnuchin's comments here
The biggest losers from an all-out U.S.-China trade war could be those with more favorable diplomatic ties to the U.S. –- the free-market economies of Japan, South Korea and Taiwan. Those economies are intertwined with China through manufacturing supply chains and lack the internal growth drivers enjoyed by its bigger neighbor –- continuing urbanization and expanding ranks of middle-class consumers.
It was all quite different in the early 1990s. The U.S. labeled China as a currency manipulator between 1992 and 1994, complaining it limited access for its companies to buy products from the U.S. and deliberately weakened the yuan.
Lawrence Summers, the then-Treasury undersecretary for international affairs, who later became Treasury chief to Clinton and a top adviser to President Barack Obama, said at the time that besides bilateral talks, the U.S. had a powerful bargaining chip: "The remaining tool is the, I think, quite significant leverage that is afforded by the ongoing GATT negotiation, which is something that China very much wants."
The tag was dropped at the end of 1994 following Chinese reforms of its exchange rate. However, the tensions didn't disappear, with the Clinton Treasury continuing criticisms.
Robert Lighthizer, whom Trump has picked to head the U.S. Trade Representative office, argued in 2010 that the U.S. should be willing to depart from WTO rules and take tough action against China.
Currency Manipulator?
Trump, in an interview with the Wall Street Journal last week, pointed to bilateral talks to address his concerns that China's currency is excessively weak. He said that while Chinese policy makers are certainly manipulators, he wouldn't designate them as such on his first day in the White House, the Journal reported.
Yet if any manipulation is taking place in China right now, it's to prop up, not weaken the currency. The yuan fell 6.5 percent last year against the U.S. dollar as capital flowed out, Chinese firms went on a global shopping spree and its savers looked to diversify their wealth in everything from apartments in Sydney to Hong Kong life insurance products. The People's Bank of China spent billions of dollars trying to cushion the yuan's slide.
And that's maybe where Trump does have some leverage. If Chinese exports to the U.S. dried up, China would see its trade surplus turn into a deficit and the yuan would be "smashed," said Michael Every, head of financial markets research at Rabobank Group in Hong Kong.
"History shows in clashes between trade surplus and deficit countries it's the exporter who loses, not the importer," Every said. "That's why China is publicly talking up a defense of the current global trading system: it's a game it keeps winning, and it doesn't want to rules to change."
Before it's here, it's on the Bloomberg Terminal.
LEARN MORE