Torture Suit May Bedevil Trump Waterboarding Campaign Pledge
Pamela MacLean
Judge says he'll allow suit blaming U.S. citizens for torture

Psychologists acting as agents of CIA said claims were barred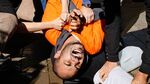 A novel lawsuit seeking to hold Americans liable for complicity in alleged torture may haunt President-elect Donald Trump if he follows through on his pledge to bring back waterboarding "and worse" to fight terrorism.
Two psychologists who designed and personally administered an enhanced interrogation program at overseas CIA facilities in the aftermath of the Sept. 11 attacks face claims that they are responsible for human rights abuses of two former prisoners and a third who died in custody.
If the lawsuit succeeds, it may encourage other prisoners to pursue claims they were tortured in the U.S. war on terrorism, said Dror Ladin, a lawyer for the plaintiffs with the American Civil Liberties Union. The case marks the first time the 228-year-old Alien Tort Claims Act would be used to fix blame for torture on U.S. citizens, unlike previous cases brought against foreigners, he said.
Senior U.S. District Judge Justin Quackenbush said during a hearing Thursday in Spokane, Washington, that he intends to reject the psychologists' argument they can't be sued for detention-related claims made by prisoners who were properly held as enemy combatants. They argued they were acting as agents of the CIA.
"I don't think the facts establish that they were acting as agents of the U.S.," Quackenbush told lawyers. "The contracts are explicit they were independent contractors." The judge said he will issue a written ruling later.
Beer, Cigarettes
On the campaign trail, Trump said he wanted to use waterboarding to extract information from suspected terrorists. After winning, Trump told the New York Times he was surprised to have heard from retired Marine Corps General James Mattis, his nominee for defense secretary, that torture didn't work as well as sitting down with "a pack of cigarettes and a couple of beers." His nominee to head the Central Intelligence Agency, Mike Pompeo, came out against waterboarding in his Senate confirmation hearing.
Read More: Trump's Nominees Stray From His Path on Russia, Torture
The lawsuit followed the 2014 release of a Congressional report on CIA interrogation techniques that for the first time published the names of the three prisoners and described what they had been through.
The complaint doesn't name the CIA as a defendant but instead targets the psychologists "whose company made $81 million as private profiteers from torture," Ladin said in an interview.
The CIA declined to comment on the case. The government is covering legal expenses for the psychologists, James Elmer Mitchell and John "Bruce" Jessen.
"Dr. Mitchell and Dr. Jessen are patriots who answered their government's call following the catastrophic terrorist attacks of 9/11," their lawyer, Henry Schuelke, said in a statement. "Their interrogations of the world's most extreme terrorists were authorized in their entirety by the Department of Justice and led to actionable intelligence that saved countless lives."
A spokesman for Mitchell and Jessen took issue with the comment about their company making $81 million, saying the psychologists were paid by the hour as part of a multi-year contract with the government signed in 2005 that "provided up to 100 people, doing a variety of highly sensitive duties, deployed year round to dangerous places, embedded in the CIA, and under the direct command and control of CIA."
"It has nothing to do with the plaintiffs' case," Larry Larsen, the spokesman, said in a statement.
Mitchell stood by his actions in his 2016 book, "Enhanced Interrogation, Inside the Minds and Motives of the Islamic Terrorists Trying to Destroy America."
'Rough Interrogation'
Mitchell said he was asked after the Sept. 11 attacks not only to create the program for "rough interrogation techniques," but also to conduct the interviews. He was told another deadly attack might come at any time.
"I concluded that conducting coercive interrogations on a small number of Islamic terrorists who were actively withholding information that could disrupt a potentially catastrophic attack was justified as long as those methods were lawful, authorized, and carefully monitored," he wrote.
Congress passed the Alien Tort law in 1789 and it has been interpreted since then to give non-citizens access to U.S. courts to hold individuals and companies accountable for violation of international law.
In 2015, two men and the estate of a third, who died as a result of hypothermia during his captivity, filed a complaint accusing Mitchell and Jessen of war crimes, including torture, cruelty, inhuman and degrading treatment and non-consensual human experimentation.
'Learned Helplessness'
The three allegedly faced severe coercive techniques devised by Mitchell and Jessen to induce a state of "learned helplessness" and dread in order to break their wills. The program featured prolonged sleep deprivation, shackling in painful stress positions, forced nudity, dousing with icy water that approximated waterboarding, confinement in coffin-like boxes and loud music played constantly, according to the complaint.
Suleiman Abdullah Salim, of Tanzania, was captured in 2003 while working as a fisherman and taken to Afghanistan, until his release in 2008 after it was determined he posed "no threat to the U.S. Armed Forces," according to the lawsuit.
Mitchell and Jessen said in a court filing that Salim was properly held as a suspected combatant and an alleged facilitator of the 1998 bombings of the U.S. embassies in Nairobi, Kenya, and Dar Es Salaam in Tanzania that killed 224 people and injured thousands.
Mohamed Ahmed Ben Soud, a Libyan, was also captured in 2003 while in exile in Pakistan, and was then held in two CIA prisons until his release in 2011, according to the lawsuit. Gul Rahman was in Islamabad for medical care in 2002 when he was captured and taken to a prison in Afghanistan, where he died. His body was never returned to his family, according to the complaint.
The case is Salim v. Mitchell, 15-cv-00286, U.S. District Court, Eastern District of Washington (Spokane).
Before it's here, it's on the Bloomberg Terminal.
LEARN MORE