The Puzzle Faced by India's Biggest Lender After Modi's Cash Ban
By and
India's largest bank may retain 15%-40% of cash-ban deposits

State Bank of India Chairman Bhattacharya comments at Davos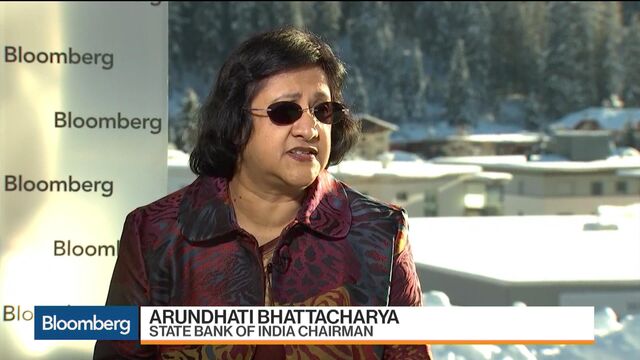 Analysts scratching their heads over the impact on India's banks of the country's move to ban high-value notes have every right to be puzzled, as estimates offered by the chairman of State Bank of India indicate.
The bank could retain anything from 15 percent to 40 percent of the deposit boost it received after the government withdrew about four-fifths of the banknotes in circulation in November, Arundhati Bhattacharya said in an interview Wednesday with Bloomberg Television's Erik Schatzker. She was unable to give a precise estimate amid uncertainty about how much of that money came from Indian businesses as opposed to individuals.
If much of the money that came was being used in business, "then much of it will get taken out because people will want to use it in their business again," Bhattacharya, 60, said on the sidelines of the World Economic Forum in Davos, Switzerland.
"But if much of this money is from savings of people, which was sitting in their cupboards or wherever, then obviously it won't go out," she said. "Once it's in the bank, it'll stay in the bank and therefore that's why we have a very wide kind of range."
For weeks, investors have speculated over whether the surging bank deposits caused by the Nov. 8 ban on high-value notes will ultimately benefit lenders. The S&P Bankex Index, which tracks 10 lenders, rose almost 4 percent following the move, before slumping 13 percent and has since clawed back much of that slump.
"Retaining more deposits means low cost funds that can be lend out to improve bottom line at banks," Payal Pandya, a Mumbai-based analyst at Centrum Wealth Management Ltd., said by phone. "Lenders focus should shift to deploying the money as loans as soon as they can."

Prime Minister Narendra Modi stunned the nation by banning old 500-rupee ($7.4) and 1,000-rupee notes, a move that dragged cash-intensive businesses to a standstill and had millions of Indians lining up at banks to deposit their now invalidated currencies or exchange them for new notes. The resulting liquidity surge brought funding costs down for lenders including State Bank of India, giving them scope to cut interest rates.
SBI's low-cost deposits had surged by 1.4 trillion rupees after the cash ban and the lender is seeing "unprecedented liquidity," Bhattacharya told reporters on Jan. 2 after unveiling a rate cut. While the company's loan book had contracted after the ban, advances in the year to March 31 are expected to expand as much as 9 percent, compared with about 6.7 percent as of Dec. 31, she said the same day.
While the currency ban has raised concerns over growth in Asia's second-largest economy, it has boosted digital payment services including the government-backed Unified Payments Interface, providing an opportunity for Modi to further his initiatives to offer banking services to more of the country's 1.3 billion people.
"What needs to be done is that the digital initiatives that we had started, that those get the same kind of focus, and that we now disincentivize the use of cash," Bhattacharya said at Davos. "If you're going to slide back into the ways that we had before this demonetization impact, then you really won't get the benefits."