Russian Invasion Talk Poses Economic Risk for Tiny Neighbor
by
Estonian PM Ratas sees no signs of increasing security risks

Investors urged to feel safe about business in Baltic nation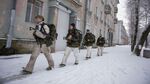 Baseless reports of elevated security risks from Russia represent a threat to Estonia's business climate, the Baltic country's prime minister said.
"Certainly it worsens the economic environment when such signals penetrate society," Juri Ratas told a news conference Thursday in Tallinn, the capital. "There have been no signs recently of increasing risks." 
The situation in the NATO and European Union nation bordering Russia is "calm and peaceful," according to Ratas. In suggesting potential Russian aggression, foreign media has "sometimes been superficial and sometimes sensational," Foreign Minister Sven Mikser told the same news conference.
Russia's meddling in Ukraine has spooked the Baltic region, which broke free of communist rule as the Soviet Union collapsed and remains home to a large Russian-speaking minority. While President Vladimir Putin has repeatedly denied having any designs on the Baltics, worries over security in the region have resurfaced after Donald Trump's election triumph.
The president-elect has called NATO "obsolete," suggesting during the campaign that the U.S. should only defend allies that have "fulfilled their obligations." Latvia and Lithuania don't currently meet the NATO target of spending 2 percent of gross domestic product on defense. Estonia, whose population is 1.3 million, spends 2.2 percent.
German Finance Minister Wolfgang Schaeuble, speaking to Bloomberg on Thursday in Davos, said the U.S. "must remain reliable" with regard to the Baltic region. "A strong America will stick to its obligations, because otherwise a strong America would lose confidence -- and that would be a disaster for America and for the world."
Estonian corporate investment as share of GDP declined to lowest on record in the third quarter, according to central bank, though it attributed that performance to reduced profitability and higher wage growth. While the stock of foreign direct investment in Estonia increased in the year through September, it remains below the record-high EU20.9 billion reached in March 2015.
"If there's a constant threat or a message that something may happen, then obviously a question arises whether to invest in Estonia or not," Ratas said. "Estonia is a good place for investment."
Before it's here, it's on the Bloomberg Terminal.
LEARN MORE