Power Cuts Rattle Libyan Government
By and
Gas supplies to power station halted to protest kidnappings

Nation remain deeply divided 10 months after Sarraj arrival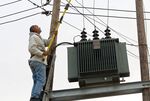 Crippling power and water outages are heaping pressure on Libya's fragile United Nations-backed government in Tripoli, where the beleaguered prime minister held crisis meetings with officials after canceling plans to address the World Economic Forum in Davos.
"We can't discuss economic developments in Davos while our nation lacks the basics," Ashraf Al Thilthie, a spokesman for Prime Minister Fayez al-Sarraj, said in an interview. The Government of National Accord is "present in the capital to deal with these issues."
A large part of western Libya, including Tripoli, lost power on Jan. 16, two days after gunmen shut off the gas pipeline that feeds the region's Zawiya power station to protest the kidnapping of relatives by militias from a nearby town. It was a further blow for Libyans already facing a shortage of cooking gas and banks running out of cash.
Libya remains deeply fractured 10 months after Sarraj's administration arrived in the capital, vowing to unite the nation and end the years of conflict and economic ruin that have followed the ousting of Muammar Qaddafi.
While oil production in the holder of Africa's largest reserves has risen, a rival government based in the east has taken control of key energy infrastructure, secured Russian military support, and continues to oppose reconciliation. Killings, kidnapping and smuggling are common in a country awash with guns. Prices are rising and the black market is thriving.
Oil Production

Parts of the capital have access to groundwater while some families have private wells. Those who can afford it are running generators. Telecommunications services have been badly disrupted.
"The gas pipeline was opened today after an agreement, but was closed again 30 minutes later by the protesters," Mohamed al-Tkuri, spokesman for the national electricity company, said by phone on Thursday. Power outages initially disrupted operations at some oil fields in the western region, causing a drop in output, but electricity supplies are said to have gradually been restored.
Islamic State militants have been removed from their Mediterranean strongholds in Libya, but European leaders fear a total collapse of authority there will intensify regional insecurity and send more economic refugees heading their way.
— With assistance by Caroline Alexander
Before it's here, it's on the Bloomberg Terminal.
LEARN MORE