Style
Moonlight Star André Holland on His Vintage Obsessions
Before he takes the stage in the new Broadway production of August Wilson's Jitney, the New York-based actor takes us shopping.
By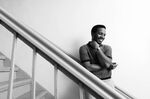 André Holland has acted on film, most recently in the award magnet Moonlight, nailing a late scene that clinches the movie. He's also acted on television, most famously as an early-20th-century physician in Steven Soderbergh's The Knick. And he's trod the boards of Broadway, where his turn as Youngblood in August Wilson's Jitney gets under way Jan. 19. 
But one recent afternoon at Manhattan's Regeneration Furniture, Holland tried his hand at a new type of art, perhaps more daunting than any named above. A passionate collector of midcentury modern furniture, the 37-year-old star spontaneously self-directed his own version of The Price Is Right.

Holland was eyeing a pair of chairs by Jens Risom, the recently deceased designer famous for his pioneering work at Knoll, and speaking in the respectful hush of someone chatting in a museum or church. "I have a pair of those I bought on Craigslist five or six years ago that used to be in the mayor's office," he said and edged closer, investigating the clean-angled ottoman that accompanied them. "These are very, very similar to the ones I have. I would guess $1,500. Eh, probably $1,400." 
He asked the shopkeeper if she knew the price. "I think they're marked up kinda high," she said, "but I know we could do, like, five [thousand] for the set."

"They're beautiful," he replied. Once her back was turned, Holland, drawing on his Shakespeare in the Park experience and his NYU Tisch School training, executed a hammer throw of a jaw drop, staggering with incredulity at the extortion of it. Retreating to a second-floor sofa as if it were a fainting couch, Holland connected his passion for collecting with his upbringing outside of Birmingham, Ala., when his family used to go to thrift stores, "digging for treasures," he said. 
Holland settled in New York after earning his degree at Florida State in 2001. "When I first moved here, I didn't know about NYU," he said. "I just came here to be an actor. That was spring of 2002. And then by fall of '03 I was in school." Furniture became an "obsession," he said, about five years after that—or around the time he broke out from doing struggling-actor work on Law & Order episodes and in long-forgotten network dramas. 
In 2009, he got his first taste of Broadway in Joe Turner's Come and Gone, another of August Wilson's classics. "He's my favorite writer," Holland said. "He passed away when I was in grad school, so I went to his funeral, and I had the chance to look around the neighborhood where he grew up and all of his plays are set, the Hill District in Pittsburgh." He revisited the pilgrimage in preparing for Jitney, which, set in a cab station, is populated with characters with whom Holland, and his midcentury modern chairs, sociologically connect.
"I'm from a very working-class family," he said. "As I understand it, most of [the furniture] was for everyday working people. It wasn't meant to be museum pieces, and I like that idea, something that's design-forward and also function-forward and accessible. Although at $5,000 a pair, I don't know who can access that."
Holland lives in SoHo, but much of his furniture resides in a storage unit around the corner from Regeneration's Renwick Street showroom. "I know it's there, and every now and then, I'll say, 'You know, I think I want to swap this chair for one of the chairs in the unit.' But I also live on the sixth floor of a walk-up, so I'm getting a little too old for all of that." He is shopping for a place in Brooklyn, longing to be reunited with all his goodies.
Before beginning rehearsals for Jitney, Holland completed his work on an adaption of A Wrinkle in Time (directed by Ava DuVernay, who earlier cast him in Selma). Variety has reported that he is negotiating to star opposite Viola Davis in Widows, a heist film to be directed by Steve McQueen (12 Years a Slave) from a script co-written by Gillian Flynn (Gone Girl). The Widows report is unconfirmed, but the quality of the talent fits with his profile.
"I'm pretty selective about the things that I do," Holland said. "That's meant missing out on opportunities to pay bills and buy fancy furniture, but it's important to me to do things that I'm proud of, and my family's proud of, and I feel like have some impact on the culture. That's what I'm waiting on."
Here's a look at a few of André Holland's vintage favorites.

Where to Antique: "There's a great flea market up in Connecticut called Elephant's Trunk. I go up there on the weekend and get stuff. I do a Zipcar, shoot up there at 5 a.m., get it done, and then I'm back by lunchtime."
How to Travel for Style: Buying furniture "is what I base my travel around in certain cities. Whatever that city's market day is, I have to make sure I'm there for it, whether it's Paris, or Florence, or wherever."
Which Porsche to Buy: "My dad and I bond over working on old cars together. I have this vintage Porsche from 1969 [in Alabama]. It's a 912. It's not the 911 Steve McQueen, but it looks the exact same."
Whom to Trust With a Secondhand Suit: "There's a company called Dashnor Tailoring at 81st and 2nd. A guy named Dino who works there has been able to fix so many things for me. I go in, have an espresso, talk politics and art a bit, and then he'll tailor my suits. I've found a lot of vintage pieces that I thought, 'Oh, it's not going to work! This isn't going to fit!' and then I take it to him, and he's like, 'Ah, it's OK, it's OK. We'll work it out.' "
Before it's here, it's on the Bloomberg Terminal.
LEARN MORE