Mnuchin Sees an Asset in Banking Background Reviled by Democrats
By and
Treasury Secretary pick says strong dollar good over long term

Tax reform, IRS modernization, managing debt high on agenda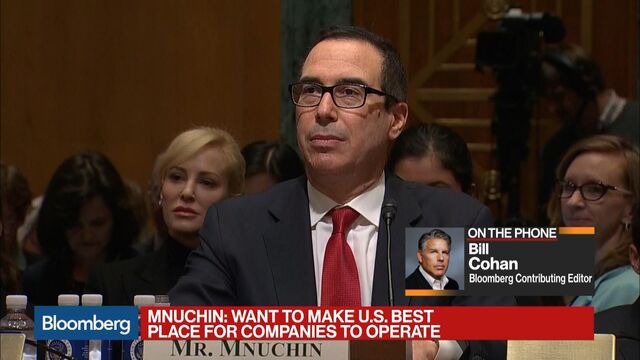 Treasury Secretary nominee Steven Mnuchin echoed President-elect Donald Trump's ideas for cutting taxes and seeking fairer trade in an occasionally combative Senate confirmation hearing over his banking record during the financial crisis.
Mnuchin, 54, is a former Goldman Sachs executive-turned Hollywood movie financier who has never served in government. He faced questions from Democrats about his personal finances, including whether he used a Cayman Islands entity to avoid paying taxes, and if he's suited to represent working people after running a mortgage lender that seized homes from borrowers who fell behind on their payments amid the 2008-2009 housing bust.
Along with fielding questions on his vision for the U.S. economy, the former hedge-fund manager spent a portion of the hearing defending himself. He argued that he didn't use the offshore location to dodge taxes and that he actually saved jobs and helped many people out of tough spots by modifying loans for delinquent borrowers as co-founder of OneWest Bank, now a unit of CIT Group.
Despite the barrage of tough questions, there was little indication by the end of the hearing of a broad effort by Democrats to block Mnuchin's nomination when they vote at a later date, which hasn't been announced. For his part, Mnuchin said his perspective from working in the financial markets will be useful in running the Treasury.
"At Goldman Sachs, I had tremendous experience in both the financial markets and in technology -- I think both of those are very important things and expertise for a Treasury secretary to have," he said. "I've been in the investment business and, more importantly, I've been a regional banker" who has lent money and has trading experience, Mnuchin said.
National Economics
On the domestic front, he said a strong dollar is important over the long term, noting that it's currently "very, very strong" and clarifying what Trump has previously stated. Markets reacted this week after Trump remarked in an interview that the currency is "too strong." The president-elect was probably referring to the dollar's short-term strength, which impacts the U.S.'s ability to trade, said Mnuchin.
Mnuchin, who described himself as "one of the chief architects" of Trump's economic plans and served as his national campaign finance chairman, said passing tax reform is a "major component" of the incoming administration's growth-boosting policy stance.
While defending his personal tax record, Mnuchin said he has concerns about the efficiency of the Internal Revenue Service, pointing to low staffing levels, "lack of first-rate technology," privacy and cyber-security risks and a need to improve customer service.
Debt Limits
The Treasury nominee said it will be important to avoid a default on the national debt by working with Congress to raise the federal debt limit "sooner rather than later" and avoid the brinkmanship that has marked recent negotiations. The U.S. has an obligation to honor its debts, he said.
U.S. debt levels at about $20 trillion are too high, he said. "The way to reduce the debt is by economic growth and that will create the opportunity for us to pay down the debt."
Mnuchin said he supports the Volcker Rule, which restricts deposit-taking banks from wagering their own money in markets, and said he will work to reduce overlapping bank regulation. Onerous restrictions on small banks sap the availability of credit to small- and mid-sized business, he said.
On international policy issues, when asked by Democratic Senator Robert Casey whether he would recommend naming China a currency manipulator if it deserved that label, Mnuchin said "I would." He also said he will back efforts to re-negotiate the North American Free Trade Agreement with Mexico and Canada, and more widely level the playing field on trade.
Competitive Business
Business tax cuts would help improve the competitiveness of American companies and draw investment from abroad, Mnuchin said. Trump has proposed cutting the corporate tax rate to 15 percent from 35 percent and reducing the number of tax brackets to three from seven.
Aside from requests to comment on policy, Mnuchin's past remained a dominant theme of the confirmation hearing. While Democrats alone don't have enough votes to block his appointment, they underscored their opposition to Mnuchin's financial career, including allegations of unfair lending and foreclosure practices during his time at OneWest.
Mnuchin said he and a group of investors saved the failing California-based financial institution, then named IndyMac, and salvaged thousands of jobs at the height of the crisis when most investors were "running for the hills." After renaming it OneWest, they modified 100,000 loans to delinquent borrowers, and fought the federal government to change policies to save homes -- but lost that battle.
Independent assessments of OneWest's dealings, including by the Federal Deposit Insurance Corp. inspector general and the Treasury Department, gave the company "high marks," Finance Committee Chairman Orrin Hatch, a Republican from Utah, said in remarks at the start of the hearing. Mnuchin had no involvement in the mortgage market leading up to the housing crisis, and he shouldn't be blamed for aggravating it, Hatch said.
Democrats used the hearing to point out that in his initial questionnaire filed to the Senate, Mnuchin failed to report about $100 million in real estate and overseas holdings, such as in the Cayman Islands. Mnuchin said he didn't list those on guidance from his lawyer, but quickly submitted the requested information.
Even with the criticism, Senator Ron Wyden, the top Democrat on the committee, also struck a conciliatory tone. "I want to make it very clear that Democrats have in no way been obstructing Mr. Mnuchin's confirmation," Wyden said during the hearing. "We are doing our jobs to truly vet this nominee."
Hatch said as the 5 1/2-hour hearing drew to a close that he was impressed with how well Mnuchin withstood the grilling, adding that the nominee has friends in both parties.
— With assistance by Austin Weinstein
Before it's here, it's on the Bloomberg Terminal.
LEARN MORE