Mnuchin Dashes Investors' Hopes of Quick Fannie-Freddie Windfall
By
Treasury nominee said he hadn't endorsed sale of U.S. stakes

Bipartisan solution needed for housing finance, Mnuchin said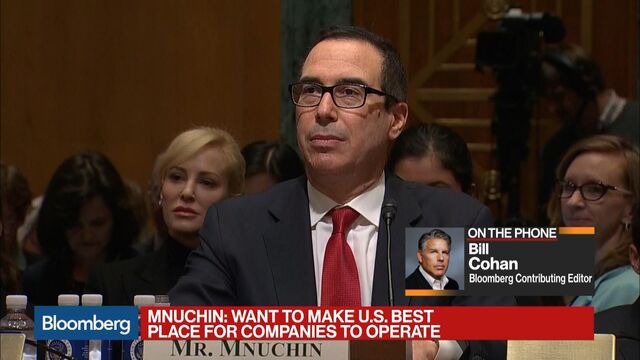 Steven Mnuchin, Donald Trump's nominee for Treasury secretary, dashed some investors' hopes for a rapid windfall on investments in mortgage-finance giants Fannie Mae and Freddie Mac under the new administration.
Mnuchin said comments he made last year on Fannie and Freddie weren't meant to endorse a view the government should quickly recapitalize the companies and then sell its stakes.
"My comments were never that there should be recap and release," Mnuchin said Thursday during his Senate Finance Committee confirmation hearing. "I believe that these are very important entities to provide the necessary liquidity for housing finance."
Mnuchin's comments, in response to a question from Senator Mark Warner, a Democrat from Virginia, temporarily sent shares of Fannie and Freddie down by about 10 percent. Shares of the two companies ended the trading day down between 4 and 5 percent.
Reviving Debate
The hearing is sure to revive debate in the future of the companies, pillars of the housing market that some critics say played a part in the financial crisis of 2008. Fannie and Freddie, created by the government and spun off as shareholder-owned corporations, purchase mortgages and package them into bonds, absorbing much of the risk, making it easier for homebuyers to obtain loans and freeing up money for banks.
The government spent $187.5 billion bailing out Fannie and Freddie after the housing market melted down. Since then, they've become profitable again and sent the government more than $250 billion in dividends.
Mnuchin said on Fox Business Network in November that Fannie and Freddie should be privatized and quickly leave government control. The companies' shares jumped 46 percent after the remarks.
At Thursday's hearing, Mnuchin said, "We need housing reform so we shouldn't just leave Fannie and Freddie as is for the next four or eight years under government control without a fix."
He said he didn't want to make any policy commitments related to the companies, including whether the Trump administration might act on its own instead of waiting for Congress to pass legislation.
Problems Fixed?
Some advocates of preserving Fannie and Freddie have argued that the Dodd-Frank Act and other laws and regulations have fixed most of the problems that caused the crisis. They say the companies should be allowed to build capital and re-enter the private market.
Some of the companies' critics have proposed putting them into receivership, winding them down and not replacing their mortgage guarantees. That would keep taxpayers off the hook for future losses, but could also raise mortgage costs and limit access for low-income borrowers.
Mnuchin didn't endorse either of those extremes at the hearing, saying that both shielding taxpayers and preserving access were important.
Isaac Boltansky, a policy analyst with Compass Point Research & Trading LLC, said Mnuchin's comments left the housing policy discussion unchanged. "The clearest difference at this point is a renewed sense of urgency regarding the issue," he said.
Selling Investments
Mnuchin told lawmakers he had sold investments in Paulson Advantage LP, a hedge fund that owns a stake in Fannie and Freddie. Financial disclosures signed by Mnuchin on Dec. 16 said that he owned a stake in the fund of between $1 million and $2 million. That fund soared 9 percent last November, in part because of Mnuchin's television interview.
Some shareholders are waging a court fight for a share of Fannie's and Freddie's profits, arguing that the current terms of the companies' bailouts are illegal. Mnuchin said he hadn't studied those legal claims.
The companies still have more than $258 billion in funding available from the Treasury, but under the current terms of the bailout agreement, must wind down their capital to zero dollars by next year. That means any small hiccup will require the companies to again require money from taxpayers.
The last serious attempt at a housing finance overhaul -- backed by Warner and Republican Senator Bob Corker of Tennessee -- fizzled in 2014.
"A bipartisan solution that relies on private capital to take on risk, but ensures liquidity in the secondary market, is absolutely doable," said former Corker staffer Michael Bright, who now works at the Milken Institute, an economic research group. "The odds of passing reform along those lines are going up."
Before it's here, it's on the Bloomberg Terminal.
LEARN MORE