Mexico Extradites Drug Kingpin 'El Chapo' Guzman to U.S.
By
Nation hands over Sinaloa cartel figure captured one year ago

Move comes as nation prepares for Donald Trump administration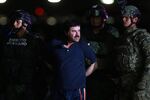 Mexico extradited alleged drug kingpin Joaquin "El Chapo" Guzman to the U.S. on Thursday, fulfilling a longstanding request of the American government as President Enrique Pena Nieto's administration prepares for the inauguration of Donald Trump.
The announcement of Guzman's transfer came less than an hour after the Pena Nieto administration said that Foreign Minister Luis Videgaray and Economy Minister Ildefonso Guajardo will travel to Washington next week to meet with Trump's chief of staff, Reince Priebus, and advisers including Jared Kushner and incoming National Security Advisor Michael Flynn. The talks on Wednesday and Thursday will highlight the trade, migration and security relationship, the Foreign Ministry said.
Guzman faces charges ranging from homicide to drug trafficking and money laundering. The alleged head of the Sinaloa cartel humiliated Pena Nieto's government by escaping from a maximum-security prison in July 2015. Guzman was recaptured a year ago after a six-month manhunt. Guzman was flown earlier today from Ciudad Juarez, on the border with El Paso, Texas.
"This is clearly meant to send a signal that the Mexican government is willing to cooperate with the U.S.," said Jorge Chabat, a political scientist at the Center for Economic Research and Teaching, a Mexico City-based university. "The question is whether Trump will take it as a sign of cooperation and whether it will change his strategy towards Mexico or not. We don't know."
Read more: Why Trump's Tariff Threats Get Taken So Seriously: QuickTake Q&A
Trump campaigned by promising to end or overhaul the North American Free Trade Agreement between the nations that also includes Canada and to make Mexico pay for a border wall to keep undocumented immigrants out of the U.S. Trump has been an object of scorn among the Mexican public since launching his campaign in 2015 by calling some undocumented immigrants criminals and rapists.
Mexico originally approved Guzman's extradition in May, saying that the U.S. agreed that Guzman wouldn't face the death penalty, which is prohibited under Mexican law. Guzman's appeal of that extradition decision was denied, the Foreign Ministry said Thursday.
Guzman, called "the world's most powerful drug trafficker" by the U.S. Treasury Department, has twice escaped from prison, first in 2001 in a laundry cart and then again in 2015. In the second escape, he fled the maximum-security Altiplano prison in the State of Mexico through a mile-long, underground tunnel equipped with lighting, ventilation and a motorcycle on rails.
Guzman's extradition is "a great moral victory and underscores the level of cooperation between Mexico and the U.S. on counter drug efforts," said Mike Vigil, a retired head of international operations for the U.S. Drug Enforcement Administration. It will have "very little effect" on the Sinaloa Cartel, given that in recent years it has been run effectively by Ismael "El Mayo" Zambada, Vigil said.
More than 150,000 people have been killed in Mexico since the nation began its war on drug cartels in December 2006, and about 26,000 have gone missing, according to the United Nations.
— With assistance by Nacha Cattan
Before it's here, it's on the Bloomberg Terminal.
LEARN MORE