May Seeks Stronger National Security Test for Foreign Investors
By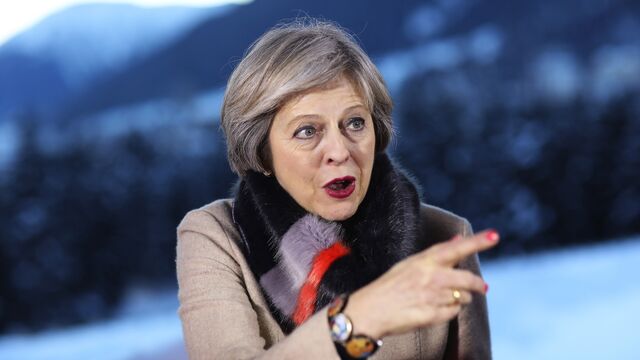 U.K. Prime Minister Theresa May said she's seeking to strengthen the national security hurdles that foreign investors must clear before investing in critical national infrastructure.
Proposals are being drawn up by the government and will be put to businesses for consultation "in due course," May said Thursday in a television interview with Bloomberg News Editor-in-Chief John Micklethwait at the World Economic Forum in Davos, Switzerland.
"I am looking at the particular issue of investment in critical national infrastructure in the U.K. and looking at ensuring that we can sharpen up, that we can increase our ability to look at national security issues when we're looking at that foreign investment," May said. "We want to hear from business their reactions to the proposals that we have."
The government is trying to ensure that foreign governments and companies aren't able to damage the U.K. through their ownership and control of infrastructure, such as power plants, grids and transportation networks. May's administration last year delayed giving the go-ahead for Electricite de France SA's planned nuclear plant in southwest England amid concern about the minority stake of a Chinese investor, China General Nuclear Power Corp.
Before it's here, it's on the Bloomberg Terminal.
LEARN MORE