Wall Street Meets May in Davos as Banks Plan Own Brexit
By , , and
U.K. leader to hold private CEO meeting after speech

International banks increasingly discuss plans to move staff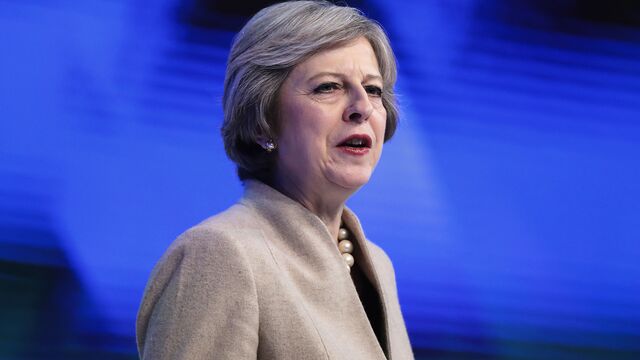 U.K. Prime Minister Theresa May may find a skeptical audience when she meets the leaders of the global finance industry on Thursday as they push ahead with their own plans for Brexit.
Two days after delivering her vision for pulling Britain out of the European Union's single market, May addressed the World Economic Forum's annual meeting in Davos, Switzerland. She will also attend a private session with Wall Street executives.

"The U.K. will step up to a new leadership role as the strongest and most forceful advocate for free markets and free trade anywhere in the world," the prime minister said in her Davos speech.
The talks will take place as bankers start revealing more about how they will shift jobs to preserve their ability to service the EU market if May's plan makes London operations unworkable. JPMorgan Chase & Co. Chief Executive Officer Jamie Dimon said on Wednesday that "it looks like there will be more job movement than we hoped for," while HSBC Holdings Plc CEO Stuart Gulliver said staff generating about 20 percent of London revenue may move to Paris.
Lloyds Banking Group Plc, Britain's largest mortgage lender, is set to pick Frankfurt as its base for guaranteeing ties to the EU following Brexit, according to a person familiar with the matter.
Direct Address
The industry pays 60 billion pounds ($73.7 billion) to 67 billion pounds in taxes each year, meaning the Treasury will suffer a hit and May loses some of her ability to stem the budget deficit when London bankers leave town. The U.K. financial-services industry generates as much as 205 billion pounds of revenue annually and employs 1.1 million people, according to a report prepared by Oliver Wyman on behalf of TheCityUK lobby group.
"We simply have to accommodate the laws of the land both in Britain and the EU," Dimon, who had previously estimated 4,000 of 16,000 JPMorgan jobs may need to leave the U.K., told Bloomberg Television on Wednesday. "That will determine how many jobs and how many people and how many things you have to move."
May's appearance in Davos gives her the opportunity to speak directly to bankers concerned Brexit will cost them passporting rights, which now enable them to sell their services to the rest of the EU from bases in London. The EU and member governments have been adamant that leaving the single market removes those rights.
While confirming on Tuesday that Britain will leave the single market, the premier said she would seek a trade deal with the EU that would maintain access and also a transitional period that would allow firms time to adjust. Still, there are no guarantees she will be successful, and many bankers are frustrated she hasn't done more to fight for finance.
Chancellor of the Exchequer Philip Hammond sought to soothe nerves, telling Bloomberg Television in Davos that financial services are a "very important sector for our economy"
and a "priority" for government.
Paris, Frankfurt
Some banks are already cementing their post-Brexit plans. Lloyds is opting to convert its German branch into a subsidiary and plans to apply for an extension to its banking license, said the person who asked not to be identified because the details aren't public. Lloyds may move a small number of jobs to the country as part of the changes, the person added.
Gulliver again identified Paris as HSBC's chosen destination. "Activities specifically covered by EU legislation will move, and looking at our own numbers, that's about 20 percent of revenue," he said.
Goldman Sachs Group Inc. is considering cutting its London staff to 3,000, with transfers to New York and the European continent, Handelsblatt reported late Wednesday, citing unidentified people in the financial industry. The bank may transfer as many as 1,000 employees to Frankfurt, including traders and top managers in regulation and compliance, the report said.
"No decision has been taken, and the numbers mentioned are none we would recognize," Nicole Mommsen, a company spokeswoman, told Bloomberg after the report.
Slow Progress
UBS Group AG's head of investment banking, Andrea Orcel, said the Swiss firm has operations in Frankfurt and Spain and so "we have still flexibility to decide where to go, but we will definitely have to move" from London. The bank is said to considering moving some investment bankers from London to Madrid as a result of Brexit, according to a person with knowledge of the matter.
"The question is how many, and it will very much depend on the agreement the U.K. will reach with the EU," Orcel said in Davos.
In Tokyo on Thursday, Takeshi Kunibe, the CEO of Sumitomo Mitsui Financial Group Inc.'s banking unit, said it is considering establishing an EU subsidiary somewhere other than London as it worries the loss of the U.K.'s so-called passporting rights would affect customers.
May might still have time to change minds. Gulliver said HSBC will "proceed quite slowly," and Dimon said JPMorgan is "not really" closer to making a decision. Bank of America Corp. CEO Brian Moynihan said it was "still premature" to act, while Citigroup Inc. CEO Michael Corbat said on an earnings call that the bank continues to plan contingencies.
Barclays Plc CEO Jes Staley told Bloomberg TV on Thursday that banks needed a transition period to phase in the the consequences of Brexit. "A two-year cliff is not helpful for anybody," Staley said.
"People hate uncertainty," said Huw Jenkins, vice chairman of Brazil's BTG Pactual Group, said in an interview in Davos. "It's very difficult to make the investment case for the U.K. until you see how these negotiations come out."
Some in Davos said London could still emerge victorious from the Brexit discussions. CFA Institute CEO Paul Smith said he didn't "buy the argument that the City of London is screwed."
'Huge Boom'
"Exit will be a huge boom for the City," he said. "London outside of Europe will obviously be less invasively regulated. Europe is really much more about manufacturing and industry, and harnessing finance to the service of that, whereas London is all about finance for finance's sake."
 
It's not just bankers who are worried about May's decision to quit the single market. The U.K.'s Confederation of British Industry this week said she had "changed the landscape" by reducing the opportunities for trade.
Davos Man may also take umbrage toward her tone since entering office six months ago. Last October, she said "if you believe you're a citizen of the world, you're a citizen of nowhere." In November, she expressed concern that there is a "new global elite who sometimes seem to play by a different set of rules."
For more on Davos, see our special report on the World Economic Forum 2017.
John Studzinski, Blackstone Group LP's ambassador to large family offices and sovereign wealth funds, nevertheless said May is "emerging as a strong leader" and that London will remain a key place for capital flows.
"Davos gives leaders such as Prime Minister May the chance to make their personal case to the world at large," Studzinski said.
— With assistance by Richard Partington, Steven Arons, Gavin Finch, Matthew Campbell, and Katia Porzecanski
Before it's here, it's on the Bloomberg Terminal.
LEARN MORE