Mattis, Kelly to Get Votes as Democrats Seek Time on Others
By and
Democratic leader says many Trump picks need more scrutiny

Senate may also begin debate on Pompeo nomination to run CIA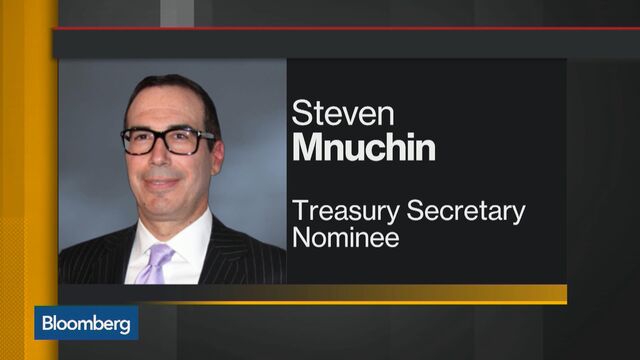 Senate Democrats are prepared to vote Friday on confirming James Mattis as Defense secretary and John F. Kelly as secretary of Homeland Security and to move ahead soon on other non-controversial Cabinet nominees, Minority Leader Chuck Schumer said Thursday.
But the Democratic leader -- speaking a day before Donald Trump is to be inaugurated as the 45th president -- accused Republicans of trying to "jam through" other Cabinet nominees who haven't completed ethics reviews or about whom Democrats have questions. Democrats will insist on full debate on the Senate floor on those nominees, Schumer said.
Republicans "want the hearings to be as quick, as short and as bunched up as they can be," Schumer of New York told reporters in Washington.
Schumer said that following the votes on Mattis and Kelly on Friday, Democrats favor beginning debate on Representative Mike Pompeo, nominated to lead the Central Intelligence Agency.
Trump's team wants his national security team to be confirmed as soon as possible. While Democrats lack the ability to kill a nomination, they can demand floor debate and delay votes.
Sean Spicer, a spokesman for the Trump transition, said it was "disappointing" that Democratic senators weren't moving faster.
"I think that it really speaks volumes that the Democratic leadership is not working with us to ensure a continuity of government," Spicer told reporters Thursday.
Tillerson, Sessions
Among the picks Republican leaders want to confirm quickly are Secretary of State nominee Rex Tillerson and Attorney General pick Jeff Sessions, but both face opposition from Democrats.
"It's possible that some other noncontroversial nominees could be considered fairly quickly," said Schumer, who was flanked by two posters with eight nominees targeted by Democrats.
For Tillerson, Schumer's poster said "CUTS OIL DEALS WITH PUTIN," and for Sessions, it said "WON'T DEFEND YOUR CIVIL RIGHTS."
"Every day there is another report of a major ethical lapse among the nominees for the Cabinet, the swamp Cabinet," Schumer charged. He named a list of concerns, including the failure of budget director nominee Representative Mick Mulvaney to pay payroll taxes for a household employee and the use of overseas accounts by Treasury nominee Steven Mnuchin.
Senate Judiciary Chairman Chuck Grassley, an Iowa Republican, declined to comment on Mulvaney's situation.
'There is Precedent'
"There is precedent for me on that," Grassley said in an interview, "along the lines of if people don't do what normal citizens have to do sometimes they've withdrawn or sometimes I've voted against them. But I can't speak about Mulvaney until I study it myself."
Senate Budget Chairman Mike Enzi of Wyoming said regarding Mulvaney's payroll tax issue, "I've got an explanation that I think is an adequate explanation of an occurrence that happened years ago and that he's corrected currently."
In response to criticism from the Trump transition team about Democratic delays, Schumer blamed delays in getting paperwork to the Senate and Republican efforts to shortcut hearings.
"I don't know if any of these Cabinet picks will be defeated," Schumer said. "It is crystal clear that the president-elect is starting off by governing from the hard right and without any concern about ethics or conflicts of interest."
— With assistance by Laura Curtis
Before it's here, it's on the Bloomberg Terminal.
LEARN MORE