JPMorgan Boosts CEO Dimon's Annual Pay 3.7% to $28 Million
By and
Bank awards $19 million compensation packages to four deputies

Stock surged 31% last year, mostly after presidential election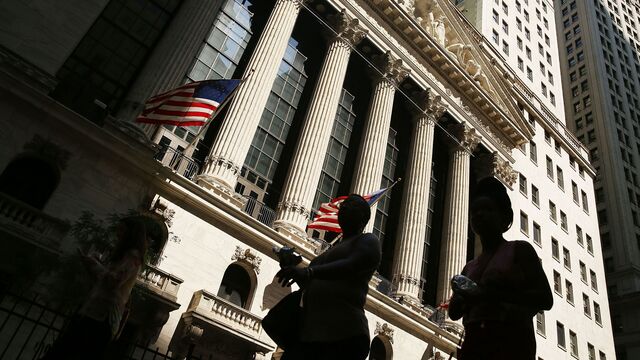 JPMorgan Chase & Co. gave Chief Executive Officer Jamie Dimon a $1 million raise after the bank's stock climbed 31 percent last year.
Dimon, who's also chairman, got a $28 million compensation package for 2016, or 3.7 percent more than a year earlier, according to a regulatory filing Thursday. It includes $21.5 million in performance shares tied to future goals, a $5 million cash bonus and $1.5 million in salary.

Under Dimon, 60, JPMorgan became the most valuable U.S. lender by market capitalization last year, taking the crown from Wells Fargo & Co., which stumbled because of a scandal tied to bogus customer accounts. JPMorgan, also the biggest U.S. bank by assets, boosted revenue and cut expenses in 2016, helping it produce a record annual profit of $24.7 billion. The firm has posted record profits in six of the past seven years.
The stock rose 6.1 percent last year before Donald Trump's victory in November's U.S. presidential election, then surged as investors speculated that banks will benefit from higher interest rates, lighter regulation and lower taxes.
The New York-based lender previously revamped its executive compensation program for 2015 to link it more closely with performance. Dimon, who in prior years had received restricted shares that vest over time regardless of JPMorgan's financial results, instead got performance units tied to the bank's return on tangible common equity over three years.
For Dimon to collect his $20.5 million 2015 stock award for performance, he needs to keep the firm out of the bottom five in a ranking of 12 major banks. If he does better, he can earn up to 150 percent of the award, increasing its target value by more than $10 million, according to a February filing.
The CEO got a 35 percent pay boost to $27 million in 2015, after receiving $20 million a year for 2013 and 2014. For 2012, his pay was cut in half to $11.5 million after the board said he bore some responsibility for the London Whale trading debacle.
The company awarded $19 million compensation packages to four of Dimon's deputies, according to spokesman Joe Evangelisti. They are Chief Operating Officer Matt Zames, corporate and investment bank chief Daniel Pinto, asset management head Mary Callahan Erdoes and retail bank chief Gordon Smith. That equated to raises of 2.7 to 5.6 percent. Chief Financial Officer Marianne Lake got a 14 percent raise to $12.5 million, Evangelisti said.