In Brazil, Advertisers Focus on the Beer—Without the Babes
By
Ambev, Heineken are among beermakers toning down their ads

Appealing to more women is key to countering sales slump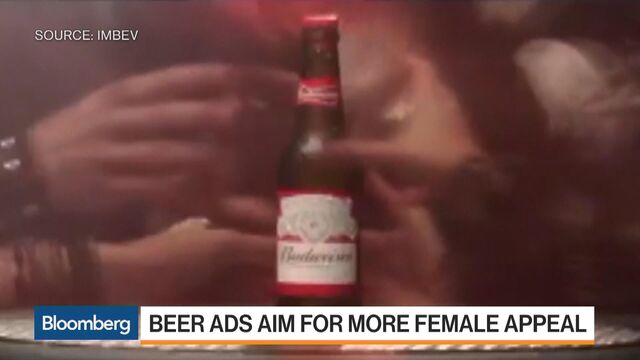 In Brazil, land of the itty-bitty bikini and nearly naked Carnival dancers, one summertime staple is in short supply this season: the raunchy beer commercial.
Brazil's top four beer producers are toning down sexual stereotypes in their advertisements, tapping into the "gender friendly" wave that's already commonplace in many markets globally. Ambev SA, which controls more than 60 percent of the domestic market, is still producing edgy marketing content, but it's focused on diversity, like the recent Budweiser commercial that showed a passionate gay kiss during prime-time TV. Since last summer, Heineken NV has been running a version of its "Moderate Drinkers Wanted" campaign in which trendy party-goers of both sexes have a blast dancing, chatting and drinking but know when to turn down the next beer.
Brazil is the world's third-largest beer market, but with the country's long recession taming drinkers' thirst, production last year retreated to 2010 levels. Appealing to more female drinkers is a key strategy for boosting sales by Ambev SA, as well as Heineken and Brasil Kirin, which each have a roughly 8 percent market share.

"The way beermakers communicate is changing drastically -- it used to be much more sexist and it wasn't just by a few select brands," says Glaucia Gouveia, marketing and events director of Brasil Kirin, owner of the brand Devassa, which means "depraved" in Portuguese. Until about six months ago, Kirin had joyously highlighted all the various connotations of the brand's name in racy advertisements. Now it's refocused Devassa's marketing around the beer's Rio de Janeiro origins. "Women's buying power is catching up to men's, perhaps even surpassing it," Gouveia says. "It's important for advertisers to approach these women the way they want to be approached."
Blasé Brazilians
What makes the shift all the more notable is that it's happening in a nation whose people and institutions are still relatively blasé to sexual and racial stereotypes -- as well as violence against women. A September poll by a Brazilian newspaper showed that more than 40 percent of men there think women share some responsibility when they're raped. In a case that drew international criticism just weeks before the 2016 Olympic Games began, video and photos of a 16-year-old being sexually assaulted by as many as 30 men were plastered on social media, with many people "liking" the posts and blaming the victim in comments.
The new generation of ads in Brazil are a far cry from the spots of years past that regularly pushed the limits even in the machismo world of beer propaganda. There was the Skol campaign about a decade ago that reinvented dressing-room curtains to cover only a woman's face; and then there was the minimalist ad for Helldorado craft beer showing a man making a T-shirt with the words, "I love boobs"; and who could forget the 2015 spot for Itaipava instructing male swimmers on the proper way to check out a female sun worshiper and yet emerge from the ocean while visibly -- ahem -- excited.
The Feel-Good Beer
Brewers say societal norms are starting to change. "You've got to feel good about the brand of beer you're serving to your friends," says Ambev Marketing Director Paula Nogueira Lindenberg.
Besides the social implications, creating ads that acknowledge the sensibilities of female consumers just makes business sense, says Mauricio Turra Ponte, a professor of marketing and sustainability at the Escola Superior de Propaganda & Marketing in São Paulo.
"While men still consume more alcoholic beverages than women in percentage terms, consumption growth among women in recent years is faster than among men," he says. "Companies need to understand it, develop products to satisfy this group and then at some point they need to communicate that. That's what we're seeing now."
Beermakers in the U.S. have been heading in this direction for several years now, retooling their ads and packaging to appeal to women as they try to regain a 10 percent share of the market that was lost to wine and hard liquor in the decade through 2015.
In Brazil, the biggest holdout among the top four beermakers is Grupo Petropolis, the No. 2 producer with more than 10 percent of the market and owner of Itaipava. The public face of the brand, model Aline Riscado, is almost always wearing a swimsuit in ads, though the spots have also evolved. When once she was the bikini-wearing babe responsible for that swimmer's aroused state, these days she's riding a dolphin in a one-piece after a tsunami.
Itaipava's ads focus on "reinforcing the spirit of summer and happiness," says marketing manager Eliana Cassandre. She disputed the idea that women don't identify with the strategy. "We think this identification happens independent of the physical portrayals and the clothing used and is instead based on the character's attitude."
Smaller brewers are still pushing the gender limits. In January, the Prohibited beer brand by independent maker CBBP elicited plenty of social media jokes when it introduced a pink-label Rosa Vermelha Mulher (Red Rose Woman) beer that's "delicate and perfumed." Said one quipster on Twitter: "All that's missing is the PMS medicine."
Before it's here, it's on the Bloomberg Terminal.
LEARN MORE