Hammond Says City of London Will Be Priority in Brexit Talks
By
Deal with EU has to include Britain's dominant services sector

May to meet bank chiefs amid concern over passporting rights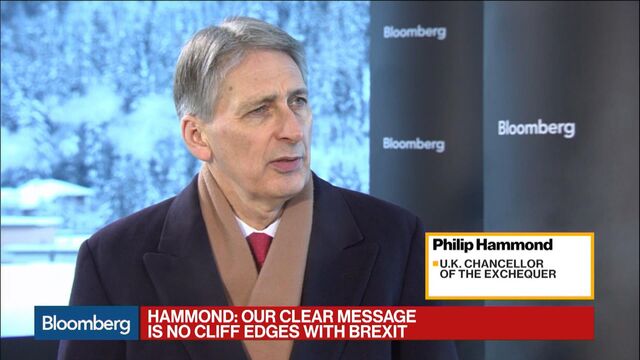 Financial services will be a "priority" for the U.K. government in its Brexit negotiations, Chancellor of the Exchequer Philip Hammond said.
While Britain has to reach a deal that works "for all parts of the U.K.," the importance of financial services to the economy means the sector will be key to future negotiations, Hammond told Bloomberg Television's Francine Lacqua in an interview at the World Economic Forum in Davos. Britain should also get a sense of how well the dialog is progressing soon after the French elections in May, he said.

Britain's European counterparts "know that in talking about a comprehensive trade deal for Britain it has to include goods and services as we are primarily a services-producing economy," Hammond said. "We have to ensure that that's protected in the deal that we do."
May delivered a long-anticipated speech on her government's plan for Brexit on Tuesday, in which she said Britain plans to leave the single market in a clean break with the EU and instead seek a "bold and ambitious" trade agreement that maintains market access.
She is due to speak in Davos on Thursday and attend a private session with Wall Street executives, giving her a chance to address concerns that Brexit will cost banks passporting rights, which enable them to sell their services to the rest of the EU from bases in London. The EU and member governments have been adamant that leaving the single market removes those rights, putting at risk tens of thousands of jobs in the U.K. financial-services industry.
"Six months from now we'll have a much clearer idea of where we collectively feel we can go," Hammond said, noting that "a huge proportion of Europe's financial transactions pass through the City of London."
Still, Hammond cautioned that Britain must be "pragmatic" about the challenges of having a cross-border financial services industry.
"The message from business is 'we will live with any outcome you deliver, but just get on and deliver it,"' he said.
— With assistance by Tim Ross, and Thomas Penny
Before it's here, it's on the Bloomberg Terminal.
LEARN MORE