Draghi Goes Tight Lipped on Trump and Brexit as ECB Holds Policy
By
ECB kept quantitative easing, interest rates unchanged

Underlying price pressures subdued despite December pickup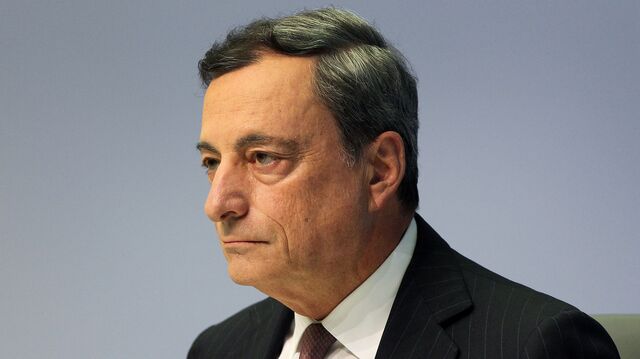 Mario Draghi didn't have a lot to say in his first press conference of the year.
Among the first questions from journalists in Frankfurt on Thursday were queries about Donald Trump -- just one day away from his inauguration as U.S. President -- and the U.K.'s strategy to leave the European Union. The European Central Bank president was clear this wasn't the time to comment on either.
Asked about currency wars and protectionism in relation to Trump's comments that the dollar is too strong, Draghi rolled out his well-worn phrase that the exchange rate "is not a target." He coupled it with the familiar line that consensus among the Group of 20 nations is to avoid competitive devaluations.
Later, on Trump's skeptism on the future of the euro area, voiced in interviews in European newspapers, Draghi said: "I just won't make any comment on that. It's just too early. Lets see what are the real policies following these statements. I'd rather comment on policies and policy actions."
In the U.K., Prime Minister Theresa May has spelled out some of the details of her Brexit plans. For Draghi, however, "it's too early to say" what the fallout of Britain's departure may be. "Whether it will have economic consequences will depend on the shape of the outcome and the length of time it will take," he said.
And, just to emphasize the point, he added it's "too early to comment."
Too Early
Draghi was speaking after the ECB's latest policy decision. With no changes to any of its interest rates and its quantitative-easing program -- and none likely for some time -- enthusiasm about the meeting may have been somewhat less than usual. Nevertheless, Draghi did manage to push the euro lower with comments that underlying inflation pressures in the euro area remain "subdued" in response to those pointing to a jump in headline rates at the end of 2016.
A query on whether an already announced slowdown in quantitative easing from April will affect all asset classes proportionally resulted in an admission that the issue had not been discussed.
Draghi was also asked to comment on Italy's measures to help its banks and comments by Finance Minister Pier Carlo Padoan that ECB supervision is "too rigid."
"I cannot comment on either of the two questions," was his response.
The press conference, scheduled to run for an hour, finished 15 minutes early.
Before it's here, it's on the Bloomberg Terminal.
LEARN MORE