Don't Assume Canada Will Rally With U.S., Poloz Warns Investors
By
Central bank hammers home divergence theme, loonie tumbles

Rate cuts remain a possibility even with Fed tightening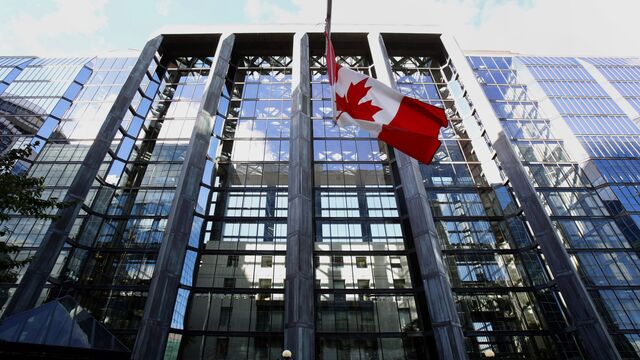 Bank of Canada Governor Stephen Poloz has a message for those betting Canada's economy will ride shotgun on the U.S. recovery: think again.
Canada's central bank chief spelled out Wednesday how his economy is still diverging from the U.S. two years after an oil shock took hold. His statements cast doubt on the recent rally in the country's dollar and bond yields that, in the past, have accompanied similar rallies in the U.S. Here's why:

Out of Step
Canadian bond yields that followed U.S. yield higher are out of step with the weaker economy north of the border, Poloz told reporters Wednesday.
"While this reaction is consistent with past correlations, it is at odds with Canada's macroeconomic situation where there is material excess capacity, unlike the U.S. economy," Poloz said, laying the blame for the economic divergence on the oil price collapse.
In a statement that accompanied the earlier rate decision, Policy makers said the higher Canadian dollar is "exacerbating ongoing competitiveness challenges and muting the outlook for exports."
Dormant Factories
The central bank said Canada's economy continues to operate with "material excess capacity." It also pointed to a deteriorating labor market, saying that while jobs growth has been firm, the labor market is showing signs of significant slack.
One area of contrast with the U.S. is wages. Canadian paychecks for permanent employees rose 1.5 percent in December from 12 months earlier. In the U.S., average hourly earnings climbed 2.9 percent, the most since 2009.
Canada's relative weakness means Poloz "will remain easy for the time being" with monetary policy, said Darcy Briggs, a fixed income portfolio manager at Franklin Bissett Investment Management.
Weaker Inflation
Federal Reserve Chair Janet Yellen said Wednesday the U.S. economy is close to the central bank's objectives of full employment and stable prices and she's confident it will continue to improve. Poloz, meanwhile, cut his inflation estimate for the fourth quarter to 1.4 percent from 1.7 percent. Core price gains are also below 2 percent in Canada.
Oil Revival
Canada's economy, hit hard by an oil price collapse that was largely beneficial to the U.S. economy, is still suffering an ongoing hit to incomes even amid signs the shock is bottoming out. Ironically, the U.S. energy sector also seems to be benefiting more from the rebound in oil prices since shale oil deposits have become cheaper to produce, giving it a competitive advantage over Canada's heavy crude.
Bottom Line
Poloz signaled a cut to the bank's 0.5 percent benchmark interest rate remains possible -- even as the Fed is hiking -- if there's another major shock. Canada still needs until mid-2018 to restore the economy to full health, and the outlook is also clouded by uncertainties over whether U.S. President-elect Donald Trump will deliver big tax cuts or bring trade restrictions.
Before it's here, it's on the Bloomberg Terminal.
LEARN MORE