Dollar Will Advance as Trump 'Can't Have It All,' HSBC Says
By
Fiscal spending and Fed's tighter policy to lift dollar: Bloom

Trump can't change all America, global markets just by Twitter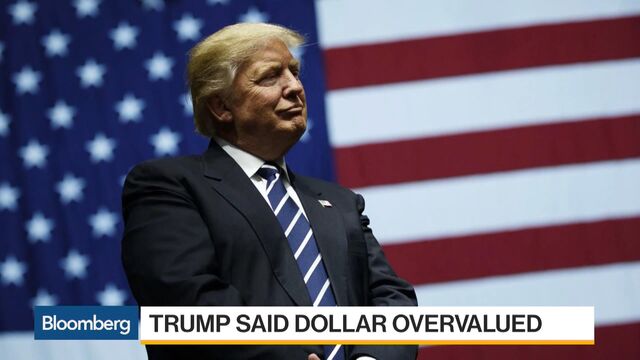 Donald Trump can't have both a weaker dollar and protectionist trade policies, according to HSBC Holdings Plc.
Trump's election pledge to bring back jobs and revive U.S. manufacturing will "starve emerging markets of those excess dollars that are outside," David Bloom, the global head of currency strategy at HSBC, said in a Bloomberg Television interview with Yvonne Man in Hong Kong. The greenback will get a boost when investments flow back to the world's largest economy, he added.
"If Trump loosens fiscal policy, which he says he will, that means tighter monetary policy and a stronger dollar," said London-based Bloom. "Trump can't have a weaker dollar, fiscal policy, higher rates. You just can't have it all."
The high degree of uncertainty about what's in store for U.S. economic policy has whipsawed currency markets. Bloomberg's gauge of the dollar fell on Tuesday by the most since July after Trump reportedly said the greenback was already "too strong," in part because China holds down its currency. The dollar measure reached an all-time high at the start of the year on speculation that Trump's promises of tax cuts and infrastructure spending will boost the economy and spur the Federal Reserve to speed up interest-rate increases.

Treasury yields and the dollar have room to rise further with or without Trump, as an increase in global inflation expectations that began before November's U.S. election will continue, according to BlackRock Inc., the world's biggest fund manager. Federal Reserve Chair Janet Yellen said Wednesday the U.S. economy is "close" to the central bank's objectives of full employment and stable prices, and she's confident it will continue to improve. "I and most of my colleagues" were expecting last month to increase the benchmark lending rate "a few times a year" through the end of 2019, Yellen added.
The Fed -- rather than fiscal policy -- is set to be the key driver of the dollar this year as policy makers have become "unusually uniform" in their view for rates to rise a few times a year regardless of the fiscal outlook, said Mansoor Mohi-uddin, a strategist at NatWest Markets, a unit of Royal Bank of Scotland Group Plc. However, a shift to protectionism in the U.S. and escalating trade disputes with China could derail the dollar's rally if it leads to a rout in global stock markets and deters the Fed from tightening, he said.
Chinese President Xi Jinping this week urged global business and political elites to reject trade wars and protectionism, in his first public rebuttal of the policies advocated by Trump, who will be inaugurated on Friday.
HSBC sees the dollar climbing about 8 percent against the yen and 5 percent versus the euro to 125 and $1.01, respectively, this year, according to data compiled by Bloomberg. Against the Chinese currency, the greenback is set to appreciate about 5 percent to 7.20 yuan in 2017, Bloom said.
"If you go and make these policies, the dollar goes up. If you name a country as a currency manipulator, the dollar goes up, not down," said Bloom. "That's just the way it works. He's not going to be able to change all of America and all global markets all the time just by Twitter."
Before it's here, it's on the Bloomberg Terminal.
LEARN MORE