Democrats Hope Their Unity Can Foil GOP Drive to Undo Obamacare
By
They seek a repeat of success in 2005 Social Security debate

Democrats are 'strategic and we're unwavering,' Pelosi says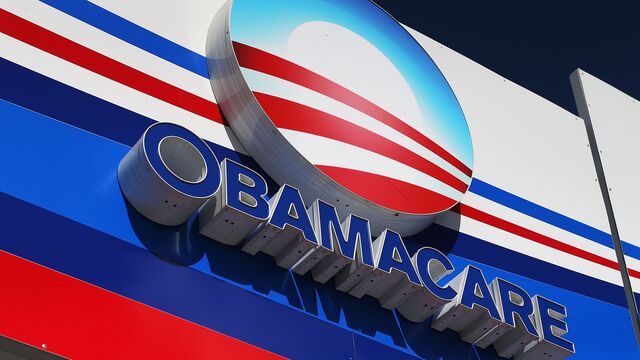 Congressional Democrats aiming to thwart the undoing of Obamacare are using a strategy that served them well before: They're standing back and letting Republicans whirl in their own discord.
In a narrowly divided Congress, Democrats are united in demanding that Republicans come up with a replacement health-care plan on their own. The coming weeks -- and perhaps months -- will show whether they're right that the GOP can't coalesce around one. 
Democratic leaders are reminding their rank and file that solidarity helped them 12 years ago to bury President George W. Bush's bid to partially privatize Social Security.
That earlier Democratic stance was followed by such Republican disarray that Bush's leading second-term proposal never saw a floor vote. Democrats also gained enough traction to reclaim control of both chambers of Congress in the next election.
House Minority Leader Nancy Pelosi described the 2005 effort in a phone call with all House Democrats in December, and said in an interview last week that parallels with the current battle over Obamacare are clear.
"What it has in common with what happened then is that we're unified, we're strategic and we're unwavering," said Pelosi of California.
Republicans say Democrats err in drawing comparisons with the earlier fight, because Social Security is more popular with the public than Obamacare. The GOP plan to end Obamacare all but dares Democrats -- particularly those in regions Trump carried in November -- to sit it out and leave millions of Americans without health insurance if Republicans can't agree on a new plan.
QuickTake Q&A on Why Repealing Obamacare is Harder Than it Sounds
Democrats can't win by defending a health-care law that fueled their election defeats last November and in 2010, when they lost control of the House, says Representative Tom Cole, an Oklahoma Republican.
"I'm not expecting a lot of cooperation," said Cole. "But Democrats ought to look reality in the face. The system isn't working. And they lost the House over this, they lost the Senate over this and they may have lost the presidency over this."
Republicans last week muscled through the House and Senate the first step in repealing the 2010 health-care law. They say they're making progress on a replacement that builds on the ideas of Republican Representative Tom Price of Georgia, President-elect Donald Trump's pick to lead the Department of Health and Human Services.
But early signs of GOP disunity are clear. Republicans were able to adopt a budget resolution that would let them push a repeal bill through the Senate without a Democratic filibuster only after pushback from some party members who want assurances a replacement will pass alongside a repeal. Another issue that divides Republicans is the House GOP's insistence on defunding Planned Parenthood as part of an Obamacare repeal.
The effort to enact Obamacare was a 14-month undertaking for Democrats, who also had no help from the other party. Its various pieces -- including a Medicaid expansion, new taxes, insurance purchasing exchanges, and coverage mandates for individuals and employers -- can't be easily broken apart, Democrats say.
'Like a Puzzle'
"If they try to repeal parts, here's the problem they have: All of the parts are like a puzzle that was carefully crafted and put together," said Representative Jan Schakowsky, an Illinois Democrat. "And you take a piece out and it no longer works."
In the Social Security fight, Democrats faced off against Bush when he proposed to let Americans invest part of their Social Security taxes into personal accounts invested in stocks and bonds.
Early in 2005, Bush began his second term with approval ratings near 60 percent. Pelosi in a 2008 memoir said "high-tech leaders" advised minority-party Democrats that they should "take him down a few pegs." Bush's Social Security plan provided the opportunity, she said, and she and then-Senate Minority Leader Harry Reid persuaded all Democrats in Congress not to offer alternatives.
Instead, Democrats worked with outside groups and held more than 1,000 town halls across the nation, making a case that Bush was risking Americans' retirement savings. Bush, despite traveling widely to champion his idea, never got enough support within his own party and Republican leaders shelved it. By the end of 2005, after disarray over the issue and unrest over the handling of Hurricane Katrina, Bush's approval ratings fell below 40 percent.
'Paid the Price'
"I think it was an important part in what became a devastating series of losses for Bush," said Jim Manley, who was then a top aide to Reid. "Republicans paid the price in the next election."
As Democrats seek to keep Obamacare intact this year, they're emulating the rallies and town halls that helped them in 2005. Under encouragement from Democratic leaders and independent Senator Bernie Sanders of Vermont, lawmakers held dozens of events last Sunday from New York to San Francisco. More will follow, said Drew Hammill, a Pelosi spokesman.
The big challenge for Republicans is that the small-government party has had a poor track record of advancing comprehensive health legislation.
One of the more notable proposals came in 1993, when a group of 19 Senate Republicans led by Lincoln Chafee of Rhode Island proposed an alternative to President Bill Clinton's health-care overhaul. It would have required all Americans to have medical insurance by 2005 or pay a penalty, allowed people to select comprehensive or catastrophic coverage, and allowed for voluntary purchasing pools with vouchers for those with low incomes. Unlike Obamacare, it didn't require employers to provide coverage for their workers. The plan never came to a vote.
Other comprehensive proposals also have never been on the House or Senate floor, including broad proposals in 2009 by now-House Speaker Paul Ryan and Senator Tom Coburn of Oklahoma, as well as Price's proposal.
Price's Proposal
Price's ideas will be the basis of an Obamacare replacement plan by House Republicans, said Ways and Means Chairman Kevin Brady. Price's 2015 bill includes tax credits to help people buy insurance on the private market, expanded health savings accounts and federal funds for states to create high-risk purchasing pools. It would eliminate Obamacare's Medicaid expansion and limit the tax exclusion on employer-based coverage to $8,000 for individuals and $20,000 for families.
Some Democrats face particular pressure to work with Republicans, though. In the House, at least a dozen Democrats represent districts that Trump won, while 10 Senate Democrats up for re-election next year represent states won by Trump. Senator Joe Manchin of West Virginia, one of those Democrats, has expressed some willingness to look at Republican ideas.
Still, there are few signs of bipartisanship so far. Republican Senator Bill Cassidy is offering a plan that would let states keep Obamacare if they like it or transition to a system that relies on health savings accounts, automatic health plan enrollment and other approaches. While it's designed to attract Democratic support, Cassidy says he has no takers yet.
"I understand at this point they're under intense pressure not to collaborate," Cassidy said. "But I want this to work for every state."
'Fights' Among Republicans
Senate Minority Leader Chuck Schumer told reporters Jan. 10 that Democrats relish watching the "internecine fights" among Republicans he predicts can't find an acceptable Obamacare replacement. More than 20 million Americans get their insurance through Obamacare, and the heat is on Republicans to craft a replacement that doesn't leave some of them behind, he says.
"The Republicans have created this stew that they're in," he told reporters. "And they can debate among themselves."
Pelosi is drawing on a simple concept for the debate -- Americans don't like to see threats to the social safety net. That proved true with Social Security in 2005, and she insisted that it also will be the case with Obamacare.
"It's easier to win a fight when you're talking about something that is being taken away," she said at a seniors rally at the Capitol last week.
Before it's here, it's on the Bloomberg Terminal.
LEARN MORE