Democrats Go Soft on Commerce Nominee Ross's Tough Trade Talk
By
'A piece of cake' is how one Democrat called Ross hearing

Trade war concerns muted as lawmakers question billionaire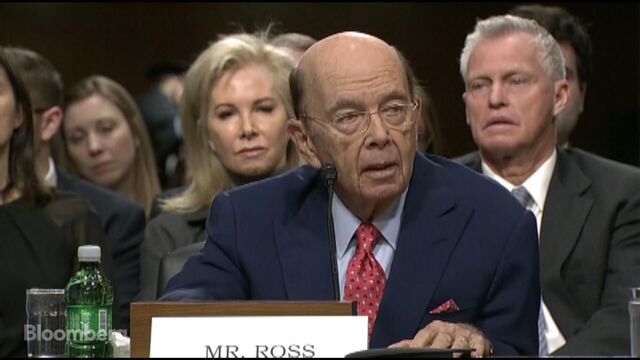 Billionaire Wilbur Ross got comparative kid-glove treatment as President-elect Donald Trump's pick to be Commerce secretary during his Senate confirmation hearing Wednesday, even as other cabinet nominees were getting pummeled elsewhere on Capitol Hill.
"A piece of cake," is how top Senate Commerce Committee Democrat Bill Nelson of Florida ended up describing the hearing near its close. Chairman John Thune of South Dakota said the committee would be looking to move Ross's nomination "as soon as possible."
For all the chatter of a trade war and railing against globalization that defined Trump's campaign, politicians largely avoided rekindling that debate. Around the same time at other hearings, Democrats were ramping up attacks on Tom Price, Trump's choice to lead the Department of Health and Human Services, and Scott Pruitt, the nominee to head the Environmental Protection Agency.
The more combative focus in those meetings focused on Price's role in repealing and replacing Obamacare and reports tying his stock trades to legislation he wrote, and contentions by Democrats and outside groups that Pruitt, the Oklahoma Attorney General, has attempted to weaken health and environmental standards.
But Ross, 79, who would be among the richest people to ever hold federal office, dealt with barely a whiff of criticism, even as he fielded questions on such thorny topics as Trump's trade policy, infrastructure spending and dealings toward China. Ross was winning courtesy and praise from the start, from both sides of the aisle.
Public Interest
"It tells me that you are committed to doing the job the right way by placing the public's interest ahead of your own," gushed Nelson, setting the tone early by complimenting Ross's willingness to divest a vast majority of his personal holdings. In an ethics agreement released Tuesday, Ross said he'll resign from his positions with 38 entities.
Nelson several times underscored Ross as being a fellow Floridian. And Nelson even joined Thune in stressing appreciation to Ross for being forthcoming to the committee that he'd recently fired a household employee hired in 2009, who could not prove their legal standing.
Ross said he didn't know of the worker's status until recently, and that all the required employer and employee's withholding tax had been paid. With that, little else was raised about it afterward, though similar admissions have caused serious trouble for cabinet nominees in the past.
Often in the hearing, Ross acknowledged he didn't have enough information yet to answer a question. For instance, he didn't express a firm view on lifting the U.S. embargo on Cuba.
Click here for a QuickTake QandA on tariffs
And with other issues that might have seemed controversial, he did not get much response. At one point, he said he believed "we can certainly get north of 3 percent" economic growth, and that after thoroughly reading the Trans-Pacific Partnership, he believes the terms don't fully reflect what's been "advertised."
But it was clear that many of Ross's answers were being lost amid distractions for senators elsewhere. He even gained an apology of sorts from Republican Senator Jim Inhofe of Oklahoma for committee members arriving late for their chances to question him as they juggled work in other hearings. "It's the best we can do," he told Ross.
Not that Ross completely avoided provocative or potentially controversial remarks. But there was barely any reactions when, for instance, he suggested there might be justification to keep the Export-Import Bank going -- something that many Republicans have decried as an example of "crony capitalism."
And Ross managed to dodge some hard questions without having to offer many more clues than what Trump revealed during the campaign.
Harder Stance
Ross vigorously promised to take a harder line with trading partners, especially China -- raising the possibility of imposing tariffs and initiating anti-dumping cases. In singling out China, he called it the "most protectionist" large economy, accused the government of subsidizing state-owned enterprises with its banks, and said it talks a lot about free trade without putting it into practice. Ross didn't expound on concerns that tough actions could backfire by igniting a trade war.
On domestic issues, he clarified that he advocated not just corporate tax cuts -- as floated in a paper he co-wrote in October -- but also a federal government role in financing infrastructure development. Yet no one pressed him on the impact that would have on the budget deficit.
He signaled that re-negotiating the North American Free Trade Agreement with Mexico and Canada will be a priority -- echoing a vow from Trump -- though he avoided elaborating on any of the troublesome provisions, saying everything is on the table.
"Nafta is logically the first thing for us to deal with," he said. "We have to solidify the relationships in the best way we can in our territory before we go off to other jurisdictions."
The potential impact of Ross's actions and statements as Trump's commerce chief became evident quickly. The currencies of both Mexico and Canada led losses among the world's major currencies after Ross's comments about swiftly retooling Nafta.
Before it's here, it's on the Bloomberg Terminal.
LEARN MORE