Chemring Rethinks F-35 Anti-Missile Defenses Amid Trump Pressure
By
U.K. company exploring less pricey counter-measures options

Disclosure follows BAE comments on 10%-plus cost-cuts goal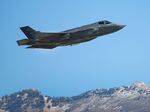 Chemring Group Plc is moving to reduce the cost of anti-missile systems that it supplies for Lockheed Martin Corp.'s F-35 jet fighter, amid pressure from U.S. President-elect Donald Trump to slash the price of the next tranche of stealth aircraft.
The U.K. manufacturer is considering "appropriate design adjustments" to technology that ejects decoy flares to draw off enemy attacks, Michael Flowers, its chief executive officer, said in an interview Thursday, acknowledging that the current system is "expensive."
A revision of the counter-measures manufacturing process for Australia's F-35 fleet has been successful in trimming costs, and could be applied to future U.S. planes with Pentagon approval, he said.
"We recognize that we need to do our bit," Flowers said. "Counter-measures, as they sit, are expensive because they are new and are being produced in small quantities. Our desire is to gain efficiencies."
Outgoing U.S. Defense Secretary Ash Carter told Bloomberg Wednesday that the F-35 "has come a long way" since "grotesque" cost overruns and schedule delays that initially plagued the $379 billion program. Chemring's systems are supplied via the U.S. arm of BAE Systems Plc, which said Tuesday it understood that Trump was seeking a reduction of at least 10 percent in costs.
Fareham, England-based Chemring hasn't been formally approached by Lockheed or BAE about paring expenses. "From my perspective it is a given," Flowers said, "regardless of Trump."
Shares of Chemring rose 3.4 percent and were trading 1.9 percent higher at 171 pence as of 9:35 a.m. in London after the company announced 2016 earnings that beat forecasts and said it would resume dividend payments.
Before it's here, it's on the Bloomberg Terminal.
LEARN MORE