The Bank Rally Mints a New Billionaire Banker
By
Richest American financiers add $15.5 billion since Nov. 8

Bob Wilmers's fortune tops $1 billion on M&T share surge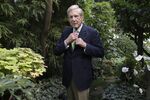 The rally in bank stocks since Donald Trump's surprise victory in November has minted a new billionaire banker ahead of Friday's inauguration.
Robert Wilmers, the 82-year-old chief executive officer of Buffalo, New York-based M&T Bank Corp., has seen his lender's shares rise 23 percent since the election. He's added more than $100 million to his net worth since Nov. 8 to take his fortune to $1 billion, according to the Bloomberg Billionaires Index.
Wilmers joins the likes of JPMorgan Chase & Co.'s Jamie Dimon and Goldman Sachs Group Inc.'s Lloyd Blankfein as a billionaire banking CEO. Dimon and Blankfein have themselves added about $150 million apiece since the election with bank stocks rallying 21 percent through Wednesday as a bond-trading revival lifted earnings across Wall Street. Combined, the richest U.S. finance billionaires added $15.5 billion to their net worth.
"The environment has never been better for financials," said Peter Winter, managing director at Los Angeles-based Wedbush Securities Inc. "You've got interest rates moving higher, Trump is pro-business and then there's the hope that there will be some regulatory reform."
Across the finance industry, the biggest gainers include Carl Icahn and Steve Schwarzman, who have added more than $1 billion to their fortunes during the rally. Warren Buffett, the world's second-richest person, has seen his net worth rise $5.6 billion, in part due to the performance of Berkshire Hathaway Inc.'s bank holdings that include a 10 percent stake in Wells Fargo & Co. and 3.5 percent of M&T.

Wilmers, who declined to comment on his net worth, is a discreet, soft-spoken figure who's little encountered outside of Buffalo, the homebase for the commercial lender he's run for more than three decades.
He's still a well-known figure in banking thanks to his annual Buffett-esque message to shareholders in which he lays out his thoughts on his bank's performance, the industry and the wider economy. In his 2015 missive, Wilmers attacked the sector's compensation practices and criticized the regulatory burdens that Trump is expected to ease.
Wilmers's M&T Bank Slides as Profit Misses Analysts' Estimates
Wilmers was named M&T's CEO in 1983, a few years after his investment fund had started buying up shares in the regional bank. He's long preached the virtues of conservative lending and a traditional approach to banking that includes a discipline around cost controls and acquisitions. He's increased M&T's assets to $123 billion as of Dec. 31, up from $2.1 billion when he took over and has extended its operations from upstate New York to more than 800 branches in states such as New Jersey, Pennsylvania, Maryland and Delaware.
Risk Systems
There have been missteps along the way. The 2012 purchase of Hudson City Bancorp Inc., expanding the bank in New Jersey, was repeatedly stalled as the Federal Reserve reviewed M&T's anti-money laundering controls. M&T ended up engaging 12 consulting firms at a cost of $178 million to improve its risk management processes with the Fed finally approving the merger in September 2015, one of the longest delays in U.S. banking history, according to analysts.
On Friday, the company reported fourth-quarter results that missed analysts' estimates, as a charitable contribution affected earnings.
As his wealth rises and his bank's footprint grows, Wilmers has emphasized the importance of keeping a steady hand.
"We realize that the only good loan is one that will be paid back," Wilmers said in "Knowledge and Power," a 2013 book on capitalism by George Gilder. "And, yes, that means that during the recent years of irrational exuberance in the financial industry we did a pretty good job of staying away from the punchbowl."
— With assistance by Jack Witzig, Jennifer Surane, and Justin Villamil
Before it's here, it's on the Bloomberg Terminal.
LEARN MORE