Brexit Bulletin: May Meets 'the Global Elite'
Theresa May takes her message of 'global Britain' to a skeptical Davos.
by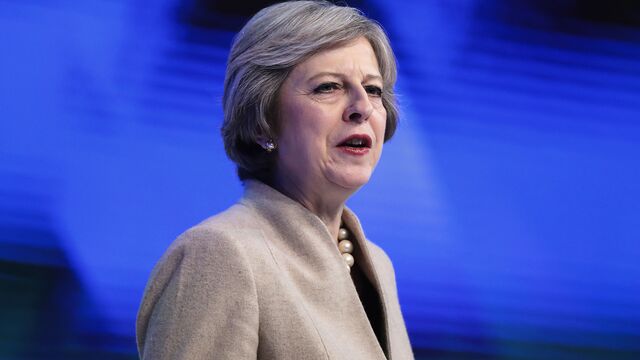 Sign up to receive the Brexit Bulletin in your inbox, and follow @Brexit on Twitter.
"Hello citizens of nowhere."
That was not the opening line of Theresa May's debut address to the World Economic Forum's annual meeting in Davos, Switzerland. 

Three months after her excoriating "international elites" in her first party conference speech as Conservative leader and British prime minister, May told the bankers, executives and investors at Davos that post-Brexit Britain would be a champion of globalization and free trade.
"The U.K. will step up to a new leadership role as the strongest and most forceful advocate for business, free markets and free trade anywhere in the world," she said.
May's address to the high temple of the global elite was an attempt to reassure her audience that, despite having taken office on the back of the wave of populism that swept Britain and America in 2016, she is a voice of "center-ground, mainstream politics" and someone they can work with. It was met with muted applause.

Ahead of her speech, Chancellor of the Exchequer Philip Hammond sought to soothe nerves by telling Bloomberg in Davos that financial services are "a very important sector for our economy" and "a priority" for government. German Finance Minister Wolfgang Schaeuble was less optimistic, saying any negotiations for U.K. banks to gain access to the European Union market will be "very difficult" if they lose so-called passporting rights as Britain exits the EU.
May will speak to Bloomberg from Davos later today. You can watch that interview at Bloomberg.com and on @Brexit at 4:30 p.m. UK time (11:30 a.m. EST.)
Bankers Bolt
The bad news for May is that just as she's firming up her Brexit plans, so the bankers attending Davos are cementing their plans to leave London.
Several executives, some of whom are set to meet May on Thursday, warned in interviews in Davos that they are likely to shift staff abroad if they lose the ability to service the EU from London. Some of them already know how many will leave and where they will go:
"We simply have to accommodate the laws of the land both in Britain and the EU," said Dimon. "That will determine how many jobs and how many people and how many things you have to move."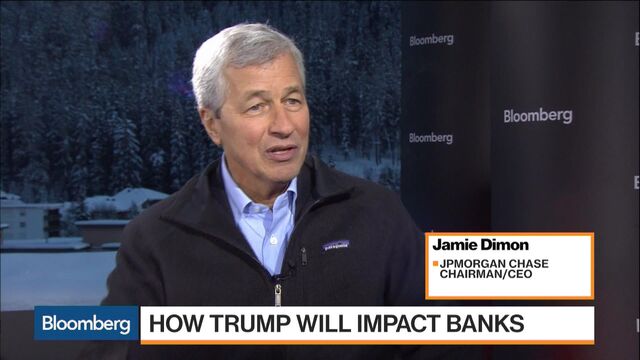 Europe United
With Britain on the way out and U.S. President-elect Donald Trump predicting others will follow, European officials closed ranks on Thursday.
German Chancellor Angela Merkel said she is "determined" to hold the rest of the EU together, while Guy Verhofstadt, the European Parliament's point person on Brexit, called Trump's suggestion that Brexit will cause a domino effect "insane."
European Commission President Jean-Claude Juncker said "it will be a very, very, very difficult negotiation." Verhofstadt said while there would be no retaliation, it's an illusion to suggest that the U.K. could leave the EU and then opt back into the best parts.
Brexit Bullets
U.K.'s Supreme Court will rule on January 24 on whether May can legally begin the Brexit process without parliamentary approval
Labour Party said it will seek to amend any legislation that triggers the exit to soften May's proposals
Trade Secretary Liam Fox tells Daily Telegraph he is conducting "trade audits" with a number of countries. Newspaper lists a dozen including China, Australia, South Korea and India
U.K. house prices decline for first time in five months
Ryanair could scrap U.K. domestic routes once Britain leaves the EU
Heathrow cleaner Mitie's stock falls as Brexit slowdown hits profits
Liberty Global says U.K. consumers prove resilient amid Brexit
On The Markets
The pound may have found a floor against the dollar if technical analysis of the foreign exchange market proves true.
The pound's biggest advance of Tuesday helped it break out of its downtrend line drawn from the Brexit vote day, according to Bloomberg's Sejul Gokal.



And Finally…
The bankers looking to flee London may discover their destination will be decided in the classroom, not just the boardroom.
A new life outside the U.K. may also mean a change of school for the children of bankers, and there's already an increase in requests about available places in Paris, Dublin and Madrid.
Failure to secure enough slots could prevent banks shifting somewhere or could mean they look to local employees.
"In a period of three weeks, I must have had inquiries from some 20 families of people in the financial industry in London, which is totally atypical," said Frank Powell, headmaster of Runnymede College, a British school to the north of Madrid with about 850 pupils. "Practically all of them prefaced this by saying they may be moving to Madrid."

For more on Brexit follow Bloomberg on Twitter, Facebook and Instagram, and see our full coverage at Bloomberg.com
Before it's here, it's on the Bloomberg Terminal.
LEARN MORE