markets
A New Deputy Joins India's Central Bank Turmoil
By
NYU Stern's professor Viral Acharya starts three-year term

RBI facing sustained criticism over demonetization silence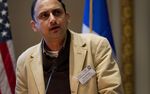 Leaving behind an academic life in the tree-lined streets of New York's west village, Viral Acharya now must confront the chaos wrought by the scrapping of high denomination bills in the world's second-most-populous nation.
The 42-year-old professor of finance at New York University's Stern School of Business starts his three-year term as deputy governor of the Reserve Bank of India on Friday, where he'll take on the key portfolios of monetary policy, market operations and research.
With Governor Urjit Patel eschewing the spotlight since taking over from his "rockstar" predecessor Raghuram Rajan, investors will be looking to Acharya for guidance on how the RBI will get growth back on its former world-beating path. Longer term, the keen musician and expert on Indian financial markets faces the challenge of modernizing capital markets and institutions in a nation where as many as 600 million people don't have a bank account.
Why a Cashless Economy is Still a Fantasy for India
Acharya will take a seat on the India's newly formed Monetary Policy Committee, which has in the past two meetings voted unanimously to cut interest rates in October and then to hold rates in December -- both decisions taking markets by surprise. Meanwhile, pressure is increasing on the central bank to counter the slowdown by easing monetary policy in coming months.
Bad bank debts
"India is at an exciting but challenging time," Acharya said in a statement last week released on the NYU Stern's website. "As one of the world's fastest growing economies, India has the massive potential to become an economic powerhouse."
Acharya, described as an "outstanding and prolific scholar" by the Dean of NYU Stern, Peter Henry, has authored research papers and articles on subjects, from analyzing systemic risk in the European banking sector to the health of Indian state-run and private banks. 
In a recent interview with Bloomberg Quint, Acharya said the government should consider allowing healthier private sector banks to buy the branch networks of distressed state-run banks as a way of preventing bad loans from festering.
Bad debts at Indian lenders, especially those in the dominant state-run sector, have climbed to a 14-year high, and are expected to rise further as an economic slowdown makes it harder for banks to recover loans.
Markets Expert
"There is a recognition that India's capital markets need development," said Shilan Shah, Singapore-based India economist at Capital Economics. "Certainly with his expertise, we can look forward to further reforms in the marketplace."
Bankers and analysts also expect the RBI to ramp up its faltering communication strategy after Acharya, who is described as affable by friends, takes charge. The RBI has come under increasing flak, with several ex-central bankers criticizing its approach.
A cloak of secrecy continues to shroud Prime Minister Narendra Modi's currency ban decision and that has led to a view that authorities were not prepared for such a move. With the RBI top-brass making only occasional appearances and choosing not to explain its many flip flops, concerns over the central bank's independence have gained ground.
"The RBI's largely silent approach is not very judicious and only adds on to concerns about the government undermining its independence," said Priyanka Kishore, Singapore-based lead Asia economist at Oxford Economics. "Acharya's appointment will be a breath of fresh air. We are hoping that after recent debacles, things will improve at the RBI. Though he alone cannot possibly make a difference."
Before it's here, it's on the Bloomberg Terminal.
LEARN MORE