Allergan Focuses on Alzheimer's Symptoms as Treatment Eludes
By
Less risky bet than trying to find first drug to treat disease

'There's always need for symptomatic relief:' R&D chief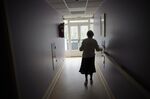 While no drugmaker so far has cracked the elusive code for a treatment to cure Alzheimer's, Allergan Plc is doubling down on research that's less risky and less expensive: developing medicines treating symptoms of the disease. 
Allergan, which already has several symptomatic Alzheimer's drugs, made two key deals in the past year to add treatments, including a clinical-stage compound aimed at improving cognition. The rationale is that symptomatic medicines are needed now because there's no treatment for Alzheimer's itself, and will still be useful if a transformative drug is ever discovered.
"There's always going to be a need for symptomatic relief, so our focus has been to continue to innovate," David Nicholson, Allergan's chief research and development officer, said in an interview. "Even if we are -- as an industry -- successful, the disease still progresses, unfortunately."
Alzheimer's and related dementia, which affect about 45 million people in the world, have consumed billions of dollars in research over the decades. The latest setback in November came from an Eli Lilly & Co. drug, which joined the more than 100 compounds that have failed in trials aimed at blocking the disease or at least slowing its progress. Hopes now hinge on late-stage studies from Biogen Inc., Merck & Co. and Roche Holding AG.
Memory Loss
The currently approved Alzheimer's drugs, including Allergan's Namenda and its newer pill Namzaric, help treat symptoms like memory loss and confusion and typically work for six months. Companies such as Johnson & Johnson are also developing treatments to improve cognition, while others are looking at insomnia or agitation, which often accompany the disease.
Allergan Chief Executive Officer Brent Saunders has said the drugmaker needs new medicines and possibly more deals to make up for declining sales of Namenda, which faces generic competition at the end of the year. Like the rest of the industry, Allergan -- best known for its blockbuster wrinkle treatment Botox -- had a tough year in 2016 as criticism on price increases intensified. Its stock slumped 33 percent last year.
Alzheimer's, one of the leading causes of death in the U.S, is part of Allergan's expansion into central-nervous-system, or CNS, drugs. The drugmaker entered Parkinson's disease this month through a deal with Lysosomal Therapeutics Inc.
"The unmet need in the CNS disorders is massive," Saunders said in an interview last week at the J.P. Morgan Healthcare Conference in San Francisco.
Key Deals
The two Alzheimer's deals last year were a $125 million licensing agreement with Heptares Therapeutics in April, which gave Allergan rights to several treatments for neurological disorders, and the November purchase of closely-held Chase Pharmaceuticals, also for $125 million upfront. In both transactions, Allergan agreed to pay much more -- up to $2.5 billion in the case of Heptares -- if sales milestones are reached.
Chase, led by former Allergan President Douglas Ingram, has a lead compound expected to begin a late-stage trial this year. The compound, CPC-201, belongs to a class of drugs designed to improve cognition by blocking an enzyme from breaking down the neurotransmitter acetylcholine in the brain. The drug could distinguish itself by doing more to curb common stomach problems in elderly patients with Alzheimer's, like diarrhea, nausea and vomiting, according to Nicholson, the Allergan R&D chief.
'Makes Sense'
Focusing on symptoms rather than trying to develop disease-modifying drugs is the right strategy for Allergan, said Vamil Divan, an analyst at Credit Suisse Groupe AG.
"It makes sense," said the analyst, who rates the shares outperform. "They don't do as much early-stage R&D, and they tend to acquire assets that are discovered elsewhere."
If CPC-201 is successful, the bet could pay off. The drug's annual sales could peak at more than $2 billion, according to Ken Cacciatore, an analyst at Cowen & Co. who has an outperform rating on the Allergan. Chase didn't respond to requests seeking comment on the estimate, and Allergan hasn't disclosed forecasts for the drug.
That would help compensate for the Namenda franchise's slumping revenue, which is expected to drop by almost 60 percent to $220 million in 2018, while Namzaric ramps up to $218 million, based on analysts' predictions compiled by Bloomberg. Overall, the central-nervous-system division accounted for about 9 percent of Allergan's sales in the third quarter, the latest available.
Competition
Rivals are also busy developing symptomatic drugs. This year Axovant Sciences Ltd. plans to release late-stage data of a drug it bought for $5 million from GlaxoSmithKline Plc. Johnson & Johnson has a broad research effort that includes a symptomatic drug in a mid-stage trial. Pfizer Inc., which in the past invested heavily in Alzheimer's, shut down trials for a drug that failed last year, but still has multiple programs, including one to treat symptoms.
Others are looking at different side effects. Japanese drugmaker Otsuka Holdings Co. is testing its anti-psychotic, Abilify, for agitation. Intra-Cellular Therapies Inc., which is based in New York, is also trying to address agitation in dementia, while Merck is trying to curb insomnia.
"We're starting to recognize that Alzheimer's disease is more than just memory and cognition," said James Hendrix, director of global science initiatives at the nonprofit Alzheimer's Association. "There are other symptoms that are very difficult to manage that people with Alzheimer's and dementia have. Going after those might provide relief as well."
Allergan, based in Dublin and run from executive offices in Parsippany, New Jersey, has transformed into a specialty pharmaceutical behemoth after shedding its generics business and making a series of deals -- including 12 in 2016.
While the Alzheimer's unit is focused on symptoms, CEO Saunders said the company has a few early-stage programs with disease-modifying agents.
"The industry -- and Allergan specifically -- needs to approach the quest or fight to treat and cure Alzheimer's from two different but important perspectives," Saunders said in a November interview. 
Before it's here, it's on the Bloomberg Terminal.
LEARN MORE