Publicis, Adecco Sit Tight in U.K. as Banks See Brexit Shift
By , , and
Job movement to continental Europe will be 'small': Adecco CEO

No need to move ad staff from London to Paris, Levy says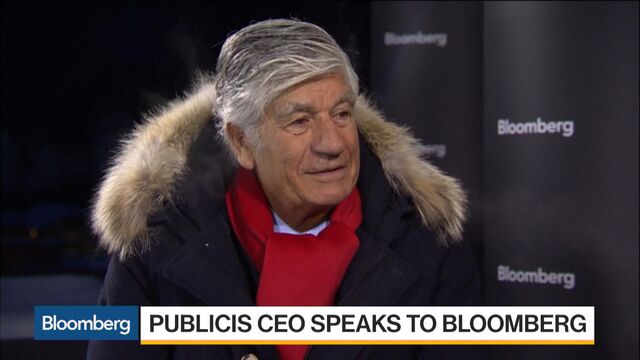 Even as London-based banks draw up plans to move workers to continental Europe, two companies that benefit from their spending -- staffing agency Adecco Group AG and advertising giant Publicis Groupe SA -- say they're sitting tight amid a more limited Brexit impact.
Job movement during the initial stages of the U.K.'s European Union exit will be small, Chief Executive Officer Alain Dehaze of Glattbrugg, Switzerland-based Adecco, the world's largest staffing agency, said in an interview with Bloomberg Television at the World Economic Forum's annual meeting in Davos. Paris-based Publicis has no plans to shift employees out of London, CEO Maurice Levy said in a separate TV appearance in the Swiss ski resort.

"All our teams are working for local accounts and for local clients and there is no reason that we move them from London to Paris," Levy said. Martin Sorrell, CEO of rival WPP Plc, said in a Davos interview that U.K. ad budgets were "pretty much OK."
The comments reinforce a vote of confidence in U.K. manufacturing Wednesday from Japanese carmakers Toyota Motor Corp. and Nissan Motor Co., which said they had no plans to leave their British factories despite Prime Minister Theresa May's tough talk on Brexit. The U.K. will leave the EU single market and alter its relationship with the customs union, May said this week -- a move that could mean tariffs for British companies selling into continental Europe and new challenges for London-based financial services firms seeking to do business there.
'Quite Limited'
HSBC Holdings Plc has estimated that 1,000 jobs at the bank's offices in London, involved with products covered by EU legislation, may shift to France when the U.K. leaves the single market. Dehaze, whose company provides everything from accountants to cleaners, described that total as "quite limited."
Even for banks, which face a loss of "passporting" rights to sell financial services across the EU if the U.K. leaves the single market, job movement during the initial stages of Brexit will probably be minimal, Dehaze said.
"Really when you see the size of the city, 1,000 people is very limited," Dehaze said. "Some really rather small activities will probably move back to Europe."
HSBC CEO Stuart Gulliver said other banks might have to move more quickly, if they don't have continental subsidiaries to provide continuity in the EU after Brexit. The London-based financial services giant owns French bank CCF.
While Adecco remains sanguine on the U.K. outlook for now, some British staffing providers have suffered since the Brexit vote last June. Mitie Plc, which cleans London's Heathrow airport, this week replaced its finance director and issued its third profit warning since September, citing "client deferrals." Capita Plc, which operates London's road congestion charging system, in December said it was cutting 2,000 jobs.
— With assistance by Rebecca Penty
Before it's here, it's on the Bloomberg Terminal.
LEARN MORE