Yellen Says Economy Near Goals Warrants Gradual Rate Hikes
By
'I and most of my colleagues' expecting a few hikes a year

Fed chair says timing of next rate increase depends on economy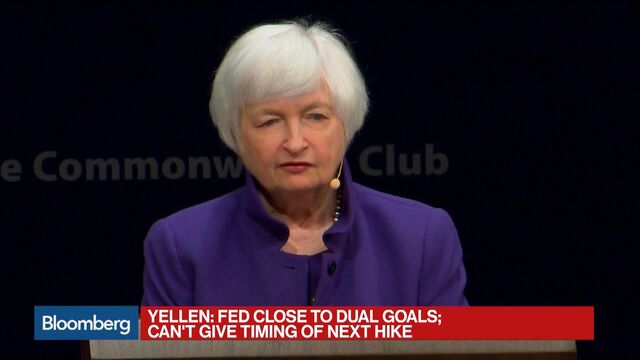 Federal Reserve Chair Janet Yellen said the U.S. economy is "close" to the central bank's objectives of full employment and stable prices and she's confident it will continue to improve.
"It is fair to say the economy is near maximum employment and inflation is moving toward our goal," Yellen told the Commonwealth Club in San Francisco Wednesday. While "it makes sense to gradually reduce the level of monetary policy support," the timing of the next interest-rate increase "will depend on how the economy actually evolves over coming months," she said.
At their meeting in December, Federal Open Market Committee officials estimated they would raise borrowing costs by a quarter percentage point three times this year, according to their median projection. Yellen noted that "I and most of my colleagues" were expecting last month to increase the benchmark lending rate "a few times a year" through the end of 2019.
The dollar rallied while Treasuries plunged as investors absorbed her confident characterization of the U.S. economy and the outlook for further rate increases. U.S. stocks were mixed.
Answering audience questions, the Fed chair said that stronger U.S. growth has helped firm the dollar against the currencies of key trading partners, slowing U.S. exports, and she expects that drag to continue. She said risks to financial stability in the U.S. were "moderate," and the central bank is watching for new policies from the incoming administration of President-elect Donald Trump and how they might change the Fed outlook.
Speaking of growth abroad, Yellen also said that her assessment was that global uncertainties "are a little bit less worrisome than they have been in recent years."

Fed officials raised their benchmark borrowing cost to a range of 0.5 percent to 0.75 percent last month, the first hike in a year. The move reflected "our confidence that the economy will continue to improve," Yellen said.
Her speech comes two days before Trump's inauguration as president. His incoming team wants to boost growth through tax cuts, infrastructure investment and regulatory changes that they say could lift gross domestic product gains to 3 percent to 4 percent a year. That compares with an average of about 2 percent since the last recession ended in mid-2009.
U.S. central bankers are bracing for what could be an economic regime shift. Earlier this week, Fed Governor Lael Brainard said fiscal policies that boost demand when the economy is already around full employment and 2 percent inflation are "relatively more likely to be accompanied by increases in interest rates."
Yellen made no such assertion but did say the Fed will closely follow what happens with economic policy and "we will factor those into the outlook and take account of their impact on what we need to do to achieve our dual mandate objectives."
— With assistance by Christopher Condon
Before it's here, it's on the Bloomberg Terminal.
LEARN MORE