Xi Jinping Discusses Establishing Chinese Banks in Geneva
By and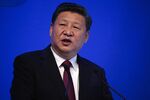 Chinese President Xi Jinping discussed establishing the nation's banks in Geneva during a meeting with local officials on Wednesday, the city's government said in an e-mailed statement.
The move comes even as North American and European banks quit the Swiss city amid a battle over the loss of financial secrecy, the strong franc and pressure on profitability from low interest rates and tougher regulation. Tax probes by the U.S. and France and a new system of bank-data exchange between governments have scuppered the traditional no-questions-asked approach to serving rich foreign clients.
Switzerland's banks stand to benefit as interest rates rise in the U.S. because they still hold a large proportion of clients' assets in dollars. Benchmark increases could also prompt wealthy clients to move out of cash and into higher-fee investment products. China's push into overseas territories is part of a plan to globalize its financial system, which has also seen it sign currency agreements with cities from London and Frankfurt to Singapore.
The canton of Geneva derives about 15 percent of its gross domestic product from financial-services companies, according to a local industry group. That contribution is at risk after the number of banks in the city declined to 119 in 2015 from 140 in 2008.
Before it's here, it's on the Bloomberg Terminal.
LEARN MORE