U.K. Supreme Court Will Give Brexit Lawsuit Ruling Jan. 24
by
Ruling will settle if Theresa May needs parliamentary approval

Judgment comes two months after May's defeat at High Court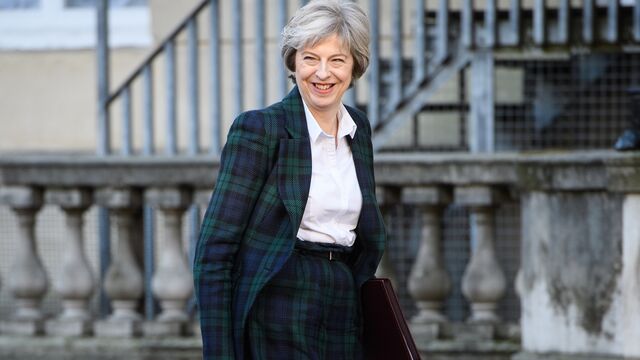 The U.K.'s Supreme Court will rule Jan. 24 on whether Prime Minister Theresa May can legally begin the Brexit process without parliamentary approval.
The judges will release their ruling at 9:30 a.m. local time, the court said Wednesday. The judgment comes after the High Court ruled that May didn't have the right to unilaterally implement Article 50 to start up to two years of negotiations to leave the European Union.
A ruling forcing her to consult Parliament before triggering Article 50, which her lawyers say is irreversible, could give her opponents their only opportunity to water down her plan to leave the single market. May has promised to give lawmakers a vote on the final deal, potentially forcing ministers to choose between backing the agreement or forcing the U.K. to leave the bloc without a deal. The opposition Labour Party said Wednesday it will try to amend any Brexit legislation in an attempt to soften her proposals.
"We would seek to amend that," leader Jeremy Corbyn's spokesman Seumas Milne told reporters in London. "But we will not vote against invoking Article 50."
May offered her vision of Britain's future relationship with its EU neighbors Tuesday, pledging to seek a customs agreement with the bloc to deliver "a smooth and orderly Brexit." While saying that she wanted the U.K. to be "a good friend and neighbor in every way" to its former partners, she also warned EU members not to reject the model she was proposing.
More Challenges
Lawmakers hoping the publication of the Supreme Court's ruling might herald an end to May's legal headaches are likely to be disappointed, as at least two new challenges gather pace. On Tuesday, four European citizens seeking to block May from exiting the European Economic Area without parliamentary approval asked a London court to conceal their identities because they fear for their safety.
The Supreme Court judges heard testimony at the start of December in a case brought by finance entrepreneur Gina Miller and others to force the government to go to Parliament for approval to change laws from when Britain joined the EU. Miller wants May to introduce legislation before triggering Article 50.
The British residents voted to leave the EU in a June 23 referendum, causing David Cameron to quit as prime minister and May move in as his successor.
Before it's here, it's on the Bloomberg Terminal.
LEARN MORE