Trump's UN Pick Will Relay Congress's Fury Over Israel Vote
By
Haley also would need to win over skeptical UN diplomats

Russia can't be trusted, governor says at confirmation hearing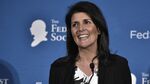 One of Nikki Haley's first jobs after winning confirmation to be Donald Trump's envoy to the United Nations will be to bring U.S. lawmakers' fury -- and threats to cut funding -- over criticism of Israel to the global body's doorstep.
Haley, the first woman elected governor of South Carolina, also will face the challenge of winning over skeptical global diplomats stunned by the president-elect's rapport with Moscow, open questioning of the "One-China" policy, doubts about climate change and antagonism toward historic security alliances.

"What Trump is saying and doing is causing angst all over the world, and so her first priority is to show that the U.S. is still interested in international diplomacy," said James Jeffrey, who was deputy national security adviser under President George W. Bush.
Haley, 44, was always going to shift U.S. priorities at the UN given the policy differences between Trump and departing President Barack Obama. But that change was accentuated after the U.S.'s abstention in the Security Council last month allowed passage of a resolution condemning Israel's settlements policy. That fueled bipartisan criticism in Congress and vows from Trump that change is coming with his administration Jan. 20.
For a QuickTake on U.S.-Israeli ties, click here
The UN has a "biased and ugly approach" to Israel, exemplified by the "one-sided" resolution passed last month, Senator Ben Cardin of Maryland, the top Democrat on the Foreign Relations Committee, told Haley at her confirmation hearing Wednesday.
Haley is widely expected to be confirmed for the UN post, despite her lack of experience in international diplomacy. She acknowledged the vote on Israel will affect her UN agenda, telling senators that the Security Council resolution was "a terrible mistake, making a peace agreement between the Israelis and the Palestinians even harder to achieve."
"Nowhere has the UN's failure been more consistent and more outrageous than in its bias against our close ally Israel," she said.
Because U.S. interests at the UN go well beyond Israel -- there's the nuclear deal with Iran, efforts to stymie North Korea's weapons program, talks over the Syrian war and global peacekeeping operations, among others -- Haley needs to strike a balance in keeping Congress happy while building constructive relationships to pursue U.S. foreign policy interests.
Russian Sanctions
As it has in other hearings for Trump's national security picks, Russia emerged as a flashpoint, with his nominees much less sanguine than the president-elect on the prospects for working with President Vladimir Putin.
Haley said she believes U.S. sanctions against Russia for its annexation of Crimea need to remain until there is more "positive action" from Putin's government. She added that since the election she and Trump have spoken only in a general fashion about the challenges the U.S. faces from Moscow.
"Russia is trying to show their muscle right now," Haley said. "I don't think we can trust them."
Yet Trump's efforts to work with Russia could help break a stalemate on the Security Council after relations soured during the Obama administration. From its military moves in Ukraine to its engagement in the Syrian war on behalf of President Bashar al-Assad, the collapse of U.S.-Russian relations effectively halted most work on the Security Council.
In the few tweets he's directed at the UN since winning election, Trump has expressed disappointment with how the global body functions.
'Just a Club'
"The United Nations has such great potential but right now it is just a club for people to get together, talk and have a good time. So sad!," Trump wrote in a Twitter post Dec. 26.
Beyond Israel and Russia, there are a range of issues that don't always dominate the spotlight but that constitute a significant part of the UN workload. Haley will be the U.S. point-person on UN efforts to address troubles in Africa from an Islamic insurgency in Mali to political unrest in South Sudan and democratic challenges in Gambia and Congo, where incumbent presidents are declining to step down.
In addition, Haley noted that UN peacekeepers have faced widespread allegations that they sexually abused citizens they were deployed to protect. The organization also saw its reputation stained after its troops introduced cholera to Haiti after the country's devastating 2010 earthquake. All that will be on Haley's plate as she forges a relationship with Secretary-General Antonio Guterres of Portugal, who succeeded South Korea's Ban Ki-moon this month.
Israel Focus
Nevertheless, Israel was a frequent topic at Haley's confirmation hearing. Republican Senators Ted Cruz and Lindsey Graham have put forward legislation to cut off all UN funding until the Israeli vote, which passed 14-0, is reversed.
Haley gave a nod, though not an explicit endorsement, to those efforts in her Wednesday testimony, saying her experience as governor taught her the importance of accountability when spending taxpayer money.
"To your credit, the Congress has already begun to explore ways the United States can use its leverage to make the United Nations a better investment for the American people," Haley said. "I applaud your efforts, and I look forward to working with you to bring seriously needed change to the UN."
Trump could end up needing the UN as much as the organization and its $10.5 billion budget need the U.S. For instance, it would take collaboration with allies and rivals for Trump to tear up or renegotiate the Iran nuclear accord, reached in 2015 between the Islamic Republic and six world powers: China, France, Germany, Russia, the U.K. and the U.S, all of which still back the agreement. The deal, which Trump has criticized, lifted nuclear-related sanctions against Iran in return for halting the country's nuclear program.
Ensure Compliance
At this stage, it would be better for the U.S. to monitor the accord rather than withdraw from it unilaterally, Haley said. "What would be more beneficial at this point is that we look at all the details of the Iran deal, we see if they are actually in compliance," Haley said. "If we find that there are violations that we act on those violations."
As for the congressional threat to withhold U.S. funds in order to punish the UN or to apply pressure for reform, Peter Yeo, a vice president of the nonprofit United Nations Foundation, said in an interview that could cause more harm than good.
"If the U.S. were to cut funding, those activities would still continue but in an underfunded way," Yeo said. "But it will undermine our influence because to get something done at the UN you need broad coalitions." 
— With assistance by Margaret Talev
Before it's here, it's on the Bloomberg Terminal.
LEARN MORE