Trump Rejects Schumer Call for Tax Error to Disqualify Pick
By
Mulvaney is Trump nominee for White House budget director

Representative failed to pay about $15,000 in payroll taxes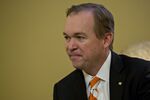 Senate Democratic leader Charles Schumer called for President-elect Donald Trump's nominee for White House budget director to withdraw from consideration after failing to pay more than $15,000 in payroll taxes -- a call that Trump's transition team quickly rejected.
Similar tax revelations have derailed or complicated the confirmations of presidential appointees in the past, but it's unclear whether the issue will affect Representative Mick Mulvaney, the South Carolina Republican whom Trump picked to be his budget chief. He's due for a hearing on Jan. 24 before the Senate Budget Committee.
"I don't see this as something that Republicans will try and disqualify him on, which is unfortunate," said Jim Manley, a former communications adviser to Schumer's predecessor Harry Reid. "Based on the way Republicans have been handling the nomination process, I assume they're going to continue to push forward with his nomination."
Mulvaney disclosed in a questionnaire provided to the Senate Budget Committee that he learned during the confirmation review process that he'd failed to pay payroll taxes for a household employee from 2000 to 2004, according to a copy of his response obtained by Bloomberg. Mulvaney has since paid more than $15,000 in back taxes, the questionnaire said. The error was reported earlier Wednesday by the New York Times.
GOP Advantage
"Mulvaney didn't pay taxes -- when nominated, he paid them, late," Schumer, a New York Democrat, told reporters on Wednesday. He said Mulvaney should withdraw as former Senator Tom Daschle did under pressure from Senate Republicans in 2009. Daschle, who was President Barack Obama's nominee to be the secretary of Health and Human Services, had neglected to pay $128,000 in payroll taxes, his confirmation review found.
It will be difficult for Senate Democrats to thwart any of Trump's nominees; after he and Vice President-elect Mike Pence take office Friday, only 50 votes will be required to secure confirmation, and Republicans control 52 seats in the Senate. Senator Chris Coons, a Delaware Democrat, acknowledged the GOP's advantage during an interview on CNN earlier this month saying "It will be very difficult for us to stop any of these nominations."
Schumer's comments about Mulvaney prompted a speedy response from a Trump spokesman.
"In typical partisan attack dog fashion, Senator Schumer has proven himself a complete hypocrite," said John Czwartacki, a spokesman for Trump's transition team, who noted that Schumer supported the nomination of former Treasury Secretary Tim Geithner in 2009. Geithner, who had failed to pay self-employment taxes, had to pay almost $50,000 in back taxes and interest to the Internal Revenue Service.
"President-elect Trump fully stands behind Rep. Mulvaney and looks forward to his efforts to help make America great again," Czwartacki said.
Geithner Grilled
So far, Republican lawmakers haven't commented publicly on Mulvaney's tax matter. A spokesman for Senate Budget Committee Republicans declined to comment.
The last time a cabinet nominee was rejected by a Senate vote was in 1989 for George Bush's Defense Secretary pick John G. Tower. Just eight other nominees had been rejected before then, according to the Senate record. A dozen nominees have withdrawn or declined the appointment once nominated, including Daschle.
Some nominees have still gotten their posts despite tax mistakes. Geithner was grilled in Congress during his confirmation hearing in 2009 over his failure to pay taxes on his 2001-2004 returns while working at the International Monetary Fund. While the Obama team said at the time it was an honest mistake, Geithner acknowledged receiving written instructions from the IMF on how to pay the taxes, according to documents released by the Senate Finance Committee.
Before it's here, it's on the Bloomberg Terminal.
LEARN MORE