These Wagers Helped South Korea Buck Fund Outflows After Trump's Win
By
Korea lone in EM Asia to see foreign inflows since Trump's win

Investors bet MSCI Korea's earnings quality will improve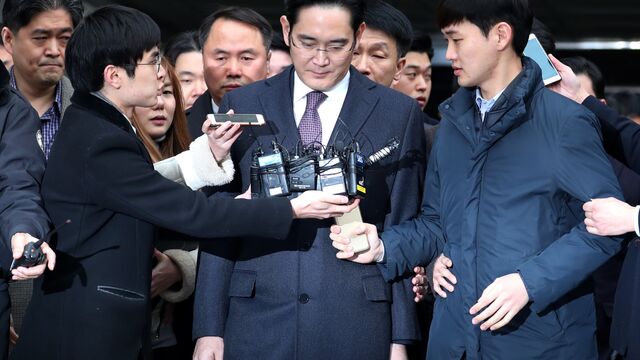 Bets on Samsung Electronics Co. and SK Hynix Inc. insulated South Korea as foreign funds fled emerging Asian markets after U.S. President-elect Donald Trump's surprise election win in November.
Both stocks are among the biggest contributors to the 1.8 percent advance in the MSCI Korea index since Nov. 8 in U.S. dollar terms, according to data compiled by Bloomberg. The gain compares with a 0.4 percent drop in the MSCI Emerging Markets index.
Investors expect South Korea's earnings quality will improve as memory-chip makers' product prices boost operating profits, even as an influence-peddling scandal engulfing government and business deepens.
Consensus estimates for return-on-equity, which indicates how efficient a company or index is at generating profits, are heading toward the 10th consecutive monthly gain for the MSCI Korea index, data compiled by Bloomberg show.

Political Risk
Investigations into the alleged influence-peddling scandal that led to the impeachment of President Park Geun-hye and prompted prosecutors to seek an arrest warrant for Samsung Electronics' vice-chairman Jay Y. Lee have raised South Korea's political risk with the prospect of new elections and policies, said John J. Doyle, UOB Asset Management's chief investment officer for equities and multi assets.
Criminal Probe
Samsung's shares have lost 4.9 percent since Lee was called for questioning on Jan. 12, sinking the most in two months the following day. A special prosecutor is making his case today to arrest Lee.
As investors bought protection against default by South Korea amid the scandal, the net notional outstanding value for the nation's sovereign credit-default swaps reached a record $12 billion, from $8.6 billion in September, Depository Trust and Clearing Corp. data show. Potentially protectionist U.S. trade policy under Trump's presidency exacerbates the risk.
JPMorgan Chase & Co. on Monday downgraded South Korea's technology stocks to underweight from neutral in its Asia allocation, citing potential trade tariffs in U.S.
"Investors are too complacent about U.S. trade policy, which makes us nervous about exporters," JPMorgan strategist Adrian Mowat said in an interview.
Still, Samsung Electronics and SK Hynix are driving the improvement in return-on-equity, Sakthi Siva, Credit Suisse Group AG's Asia strategist, said in an interview in Singapore on Jan. 6. "Samsung posted good results and Hynix is expected to do so."

Shares of Samsung Electronics, representing nearly a fourth of the MSCI Korea and a fifth of the Kospi indexes, rose to a record high on Jan. 9 after the company posted its best operating profit in three years on Jan. 6. The result, for the fourth quarter, came even after the Note 7 episode cost the company nearly $6 billion.
SK Hynix shares rose to their highest level since July 2014 on Jan. 11 before the company's fourth-quarter results, due on Jan. 26. The supplier of memory chips to Apple Inc. is expected to post earnings before interest, taxes, depreciation and amortization of 2.43 trillion won ($2.02 billion), the most in seven quarters, data compiled by Bloomberg show.
Foreign investors have bought stocks worth $2.31 billion in South Korea since Nov. 8, while Taiwan, India, Indonesia, Thailand, Philippines have seen foreign fund outflows totaling $8.56 billion, the data shows.

The MSCI Korea index has been trading below book value since May 2015 even as its 12-month forward earnings revisions turned positive in May 2016; ROE followed the trend from August-September and is now higher than MSCI Singapore.

"There are few markets in Asia where ROE is rising and price-to-book is below 1," said Credit Suisse's Siva.