Saudi Arabia's Sabic in Talks for Up to $2 Billion of Loans
By , , and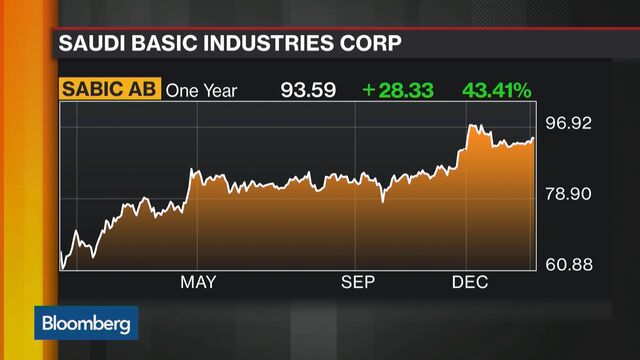 Saudi Basic Industries Corp., the world's largest petrochemicals maker by market value, is in talks with banks to raise as much as $2 billion of loans, according to two people familiar with the matter.
At this stage, Sabic, as the company is known, has no plans to raise debt, Chief Executive Officer Yousef al Benyan told reporters in Riyadh Thursday. The petrochemicals company will repay 13 billion riyals ($3.47 billion) of debt maturing this year, he said.
Sabic has asked lenders to give indications on rates across several different tenors, the people said, asking not to be identified because the discussions are private. Proceeds may be transferred to Saudi Kayan Petrochemicals Co., in which Sabic owns 35 percent, the people said. Sabic held similar consultations last year but didn't proceed with a transaction, they said, adding that current talks are also at an early stage and the company may decide not to proceed.
Profit rose 48 percent in the fourth quarter as the cost of sales fell, Sabic said in a statement. Sabic is working on a strategy for Africa this year and plans to expand its operations in the U.S., the CEO said.
Loan volumes in the Middle East rose 7 percent last year to $101 billion, the highest since 2007, according to data compiled by Bloomberg, as government's and companies borrowed to bridge budget deficits caused by lower oil prices and in anticipation of rising interest rates.
A spokesman for Sabic declined to comment.
Before it's here, it's on the Bloomberg Terminal.
LEARN MORE