Record Equity Investor Calm Means It's Cheap to Hedge Trump Risk: Bank of America
Low market volatility means investors should snap up protection on the cheap, according to Bank of America, as macro risks rise.
By and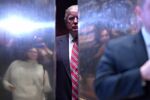 Batten down the hatches.
Investors should dive into the options market while it's cheap to hedge against potential shocks under Donald Trump's presidency, as global equity volatility remains at record low levels despite surging policy risks, Bank of America Corp. strategists warn.
"Despite much uncertainty about what a Trump presidency will deliver in terms of stimulus and reform, a combination of the initial post-election euphoria, extreme sector rotation, and a quiet holiday season has left global equity vol at historically low level," analysts, led by Nitin Saksena wrote in a note on Wednesday.

The post-election surge in U.S. equities has been driven by an upturn in expectations for U.S. output and inflation -- a boon for corporate earnings -- underscoring the prospect of a reversal in sentiment if the policy outlook disappoints. That risk belies low indicative market stress in the derivatives market, with the CBOE Volatility Index -- a measure of implied volatility calculated from what investors pay for options on the S&P 500 Index -- falling since the U.S. election. 
There's a good reason for investor nonchalance, according to analysts at the bank, citing the low levels of realized volatility notched in the aftermath of the U.S. election, while a rotation out of bond markets into equity markets has fueled a global rally.
"Similar to what we learned from Brexit, even under high political and policy uncertainty, if markets are unable to clearly put a finger on what the risks are or when they will potentially transpire, these risks can become under-priced," the analysts add. "Most investors seem not willing paying for hedges against risks they cannot clearly define, particularly in a market where alpha has been so scarce."
Citing the prospect of a "wobble" in riskier asset classes over the next month as the incoming Republican administration clarifies some of its policy positions, the analysts recommend investors should grab protection while it's cheap, citing puts, which are options that allow traders to bet on a decline in prices.
The term structure of implied volatility for the S&P 500 is notably steep, meaning perceived risks in the near-term are low relative to the long-term. For investors seeking to hedge against a downward move in equities, that means it is a better strategy to sell long-dated puts at a higher price while buying near-dated puts at a lower price, compared with buying puts outright, Saksena and team note.
In other words, in order to take advantage of record-steep term structure of stock options, or the market's expectations for future volatility, the strategists recommend investors sell S&P 500 puts expiring in March with a strike price of 2,000 to fund the purchase of puts with a higher strike price and at a closer date, for instance, the ones expiring next month at 2,200.
Using a similar approach against the risk of heightened trade friction between U.S. and China, investors should consider buying Hang Seng China Enterprises Index puts expiring in March with a strike price of 9,600 at the same time selling September 8,200 puts, the analysts say. 

While this may yield a profitable trading strategy strategy in the near-term,  the market is crying out for more benchmarks to flash investor fears: The VIX's role as an effective gauge of investor anxiety has been called into question in recent years amid unprecedented monetary stimulus and the rise of passive investing.  
Before it's here, it's on the Bloomberg Terminal.
LEARN MORE