Pound Rescued by May Faces Choppy Waters as Political Risks Loom
By
Investors await Europe's reply to May's Brexit plan for U.K.

Citigroup, Deutsche Bank retain bearish calls on sterling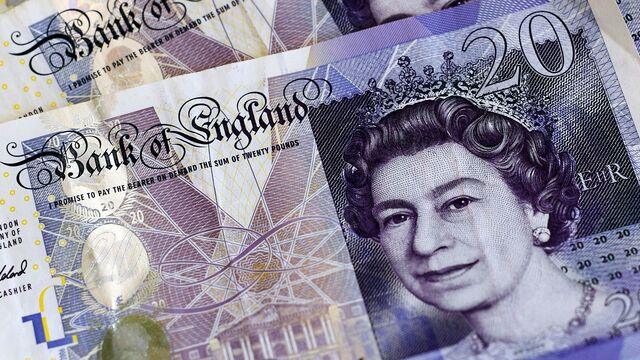 The pound may have rallied the most since the 1990s after Prime Minister Theresa May promised a parliamentary vote on taking the U.K. out of the European Union, but the currency isn't out of the woods yet.
Sterling strengthened against all major counterparts on Tuesday after May pledged to quit the single market and instead seek a customs agreement with the bloc to deliver "a smooth and orderly Brexit."
While the currency's 17 percent slump since the nation voted to leave the European Union has ensured that much of the bad news is priced in, political risks still loom large, strategists and fund managers say. Though sterling may be undervalued based on some measures, the U.K.'s widening current-account deficit adds to its vulnerability. Deutsche Bank AG predicts the currency could still weaken more than 10 percent.
"The bulk of the sterling adjustment has occurred now," said James Athey, a portfolio manager at Aberdeen Asset Management Plc. "We are flat on sterling as it's still very difficult to invest in the pound as it's heavily influenced by sentiment and headlines."

The worst for sterling is most likely over for now, according to Athanasios Vamvakidis, strategist at Bank of America Merrill Lynch. There will probably be one more leg lower when the U.K. triggers Article 50 to start the process of exiting the EU, and then it will depend on the headlines when the negotiations start.
Hard Brexit concerns may have just peaked in the near term, with the bulk of the adjustment lower for the pound having already taken place and leaving the pound undervalued, Lee Hardman, a strategist at Bank of Tokyo-Mitsubishi UFJ, said in a note to clients.
"We remain bearish on sterling for the coming months," Josh O'Byrne, a London-based strategist at Citigroup Inc, said in a note to clients, adding "counter comments" from the European Union were likely to damp expectations.
"We see the speech as a moderately positive outcome relative to weekend headlines signaling a hawkish stance on immigration and relaxed attitude towards EU tariffs," Oliver Harvey, a strategist at Deutsche Bank, said in a note to clients.

The bank expects sterling to break through 1.10 against the dollar, according to a client note dated Jan. 12. The decision to seek a deal combined with an interim agreement is a "high risk strategy", Harvey said, given the difficulty of reconciling the multiple competing interests of EU member states. "This is particularly the case over a very busy European political calendar during the first half of this year," he said.

"We have a forecast for GBP to still depreciate based on ongoing political uncertainty and a wide external imbalance, which is not disappearing quickly enough. It doesn't seem much has shifted there," Dominic Bunning, strategist at HSBC Holdings Plc, said in e-mailed comments.
Before it's here, it's on the Bloomberg Terminal.
LEARN MORE